With its stunning canals and historical palazzos, Venice deserves its reputation as a romantic and picturesque city. Its maze-like streets and alleys, under a canopy of buildings dating back 800 years or more, lends it a mysterious air, especially at night. This impression is reinforced during Venice Carnival, when locals and tourists don intricate and extravagant costumes and patrol the streets looking for fun. The atmosphere is electric.
Venice Carnival is something to do at least once in a lifetime. While tourists flock to The Floating City throughout the year, Carnival in Venice boasts a buzzy atmosphere that has to be seen to be believed. Our beginners' guide to Venice Carnival 2023 will put you on the right path so you can get the most out of this unforgettable experience.
What is Venice Carnival?
Carnival dates back to ancient Rome and, more specifically, to the festivities of "Saturnalia". However, the Italian word carnevale can be traced to 1094 when Vitale Faliero, the doge (head of state) of Venice, signed a document allowing for festivities before Lent.
In 1296, la Serenissima (the Republic of Venice) officially declared Venice Carnival a public holiday. This was quite significant as Venetian society at the time was heavily segregated. By celebrating Venice Carnival officially, the doge allowed the working and poorer classes to celebrate without restrictions. During Venice Carnival social rules were reversed and norms about desired behaviors suspended. Donning masks and costumes made it possible to minimize the differences between rich and poor, making everything possible, at least for one day.
Venice Carnival reached its golden period in the 18th century when European expats, seeking fun, headed to Venice, the capital of European culture at the time. But not everything was positive: in 1797 the French, led by Napoleon Bonaparte, conquered Venice and outlawed carnival.
Carnival returned to Venice almost 200 years later (in 1979) to encourage tourism. Tourists flocked to Venice in the off-season and celebrated in typical hedonistic fashion. Since then, it's been a popular holiday on the social calendar.
What do people wear during the Carnival of Venice?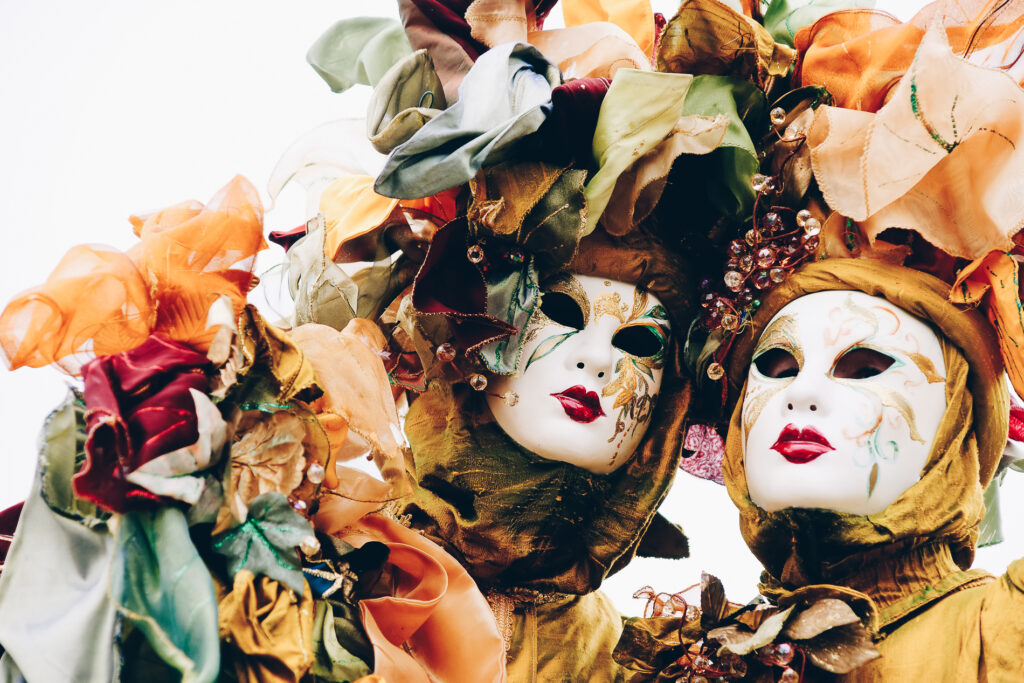 Venice Carnival is an opportunity to show your creative side via carnival masks, costumes and the like. Some participants go for a playful vibe while others opt for the most sinister.
Back in the day, carnival masks covered only half the face and were usually black or white. The bauta is a clear example of this. Worn by both men and women, the bauta consists of a white mask, black tricorn hat, a veil and a tabarro (mantel). Giacomo Casanova made the bauta famous and today, a white mask and a long black cape are an homage to the most famous lover in history.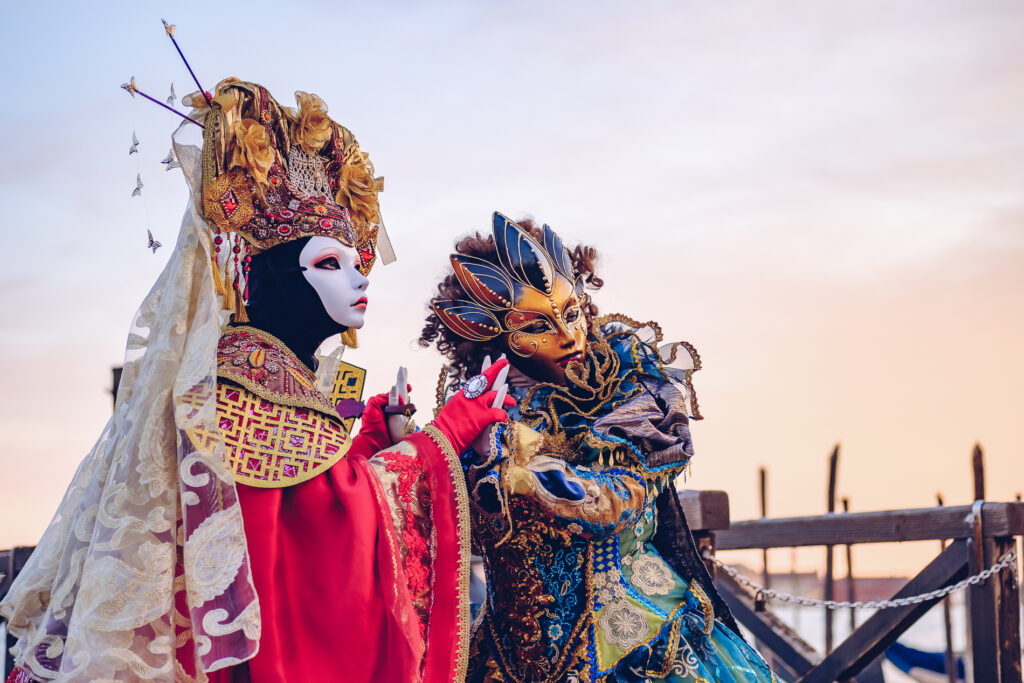 But arguably the most popular carnival costume is the Plague doctor. The Black Death decimated Europe and Venice, like many other populous cities in the Middle Ages, was not immune. The Plague doctor costume came to symbolize Venice's rebirth after this rough period.
Consisting of an ankle-length black overcoat, gloves, boots and a bird-like mask with a long beak, the Plague doctor mimics the original mask worn by doctors during the Black Death. The long nose was filled with salt, spices as well as aromatic and pungent herbs in the hopes that these substances would filter the air.
In the early 1500s, the Italian Commedia dell'arte emerged as a new professional theater troupe. From this popular art form, more carnival characters materialized, specifically Arlecchino and Pulcinella. The former is an energetic, silly harlequin who wears a colorful costume made of irregular patches. The lazy yet cunning Pulcinella dons a white outfit, conical hat and a black mask with a long nose. Among a crowd of mostly male carnival characters the only female is Colombina, a flirtatious maid who wears a red jacket.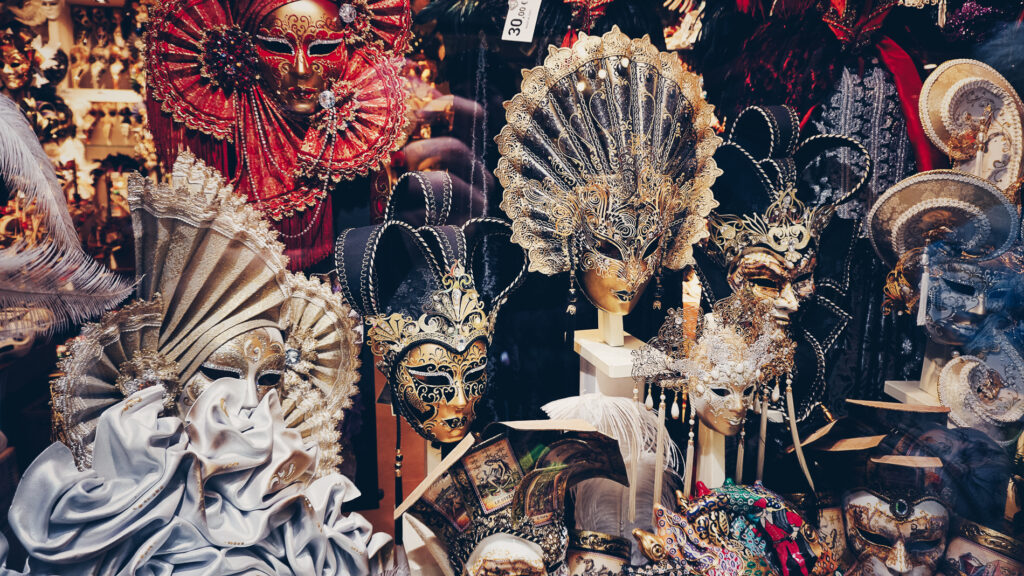 Whatever you choose, Venice is teeming with mask shops where you can rent or buy a costume. Traditional Venetian Carnival masks are made using centuries-old techniques and fabrics: waxed cloth, velvet, paper machè, leather, etc. Each detail is handcrafted and a single mask can take two to three weeks to complete.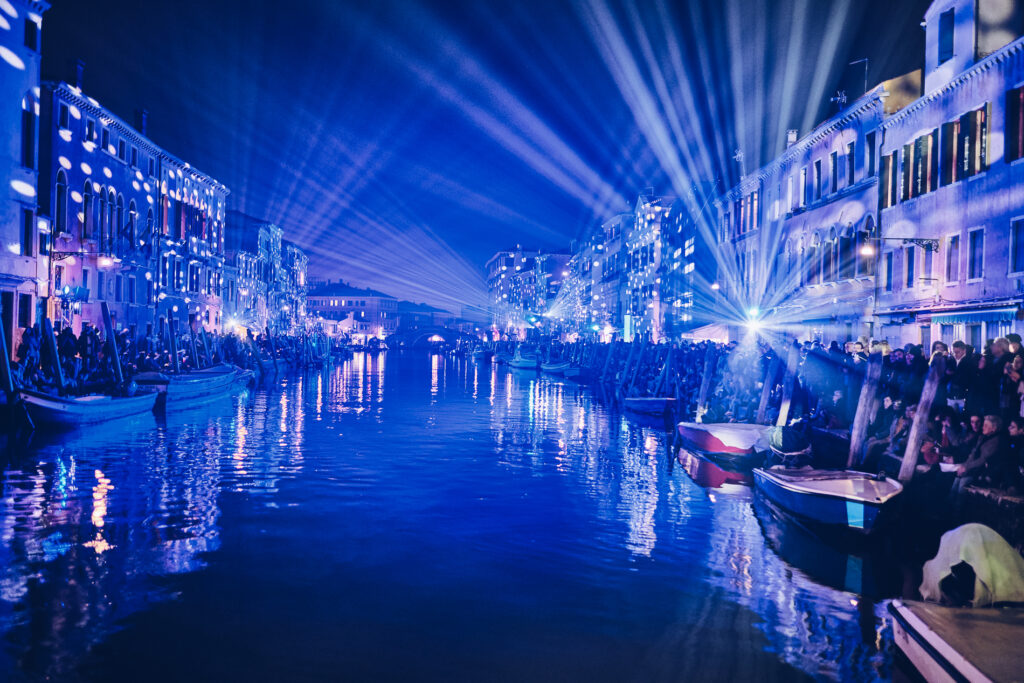 Ca' Macana, in Dorsoduro, follows tradition to the hilt and boasts unique creations and artisanal, sophisticated paper-mâché masks. The shop also organizes group workshops in different languages where you can learn how to paint your own Venetian mask!
If you are traveling on a budget or arrive in Venice without a costume, you can always head to one of the tourist shops and buy a ready-made mask and costume at an affordable price.
When is Venice Carnival?
Venice Carnival 2023 will run from February 4- 21, 2023, with daily special events and parades. The official Grand Opening—La Festa Veneziana sull'acqua (Venetian Water Festival)—will be held on Saturday at 7.00 p.m. in Cannaregio. The Grand Canal will be transformed into a fantastic water stage, with extravagant floating structures, aquatic performances, and moody music.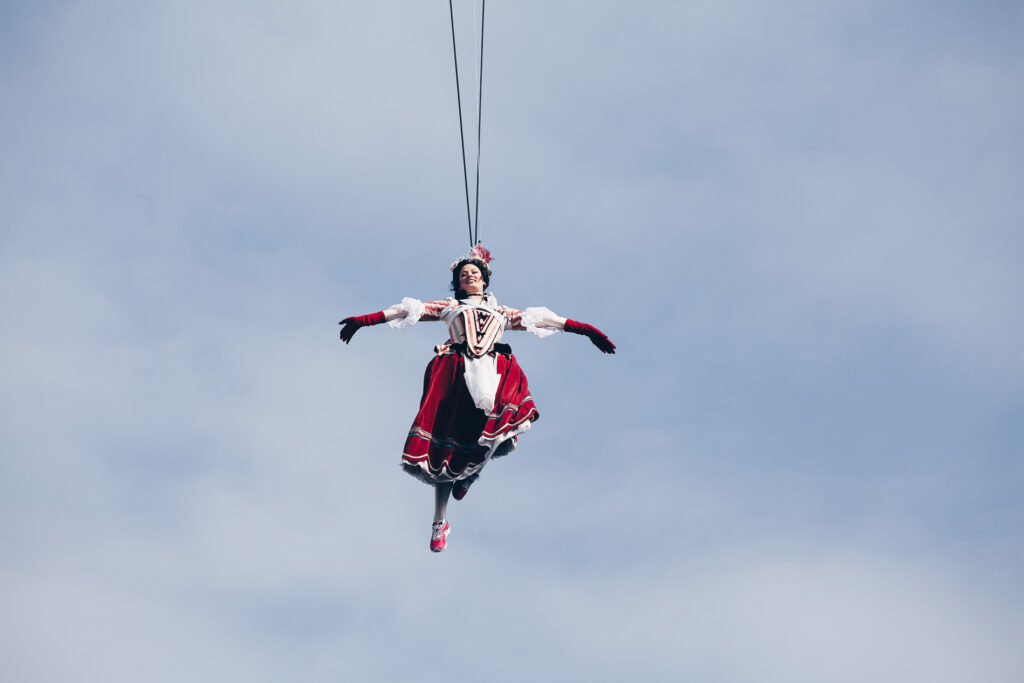 l Volo dell'Angelo (The Flight of the Angel) is one of the most popular free events during Venetian Carnival. It takes place at midday on the first Sunday of carnival—at the stroke of noon, an acrobat will leap off the San Marco Bell Tower, float in the air and throw confetti into the crowd. The event dates back to the 16th century when an audacious Turkish acrobat reached the belfry of the tower by walking on a tight rope anchored to a boat near the piazza. The spectacle was so popular that Venetians asked for it to be repeated in subsequent years.
Don't miss the traditional Festa delle Marie (Marie Festival) procession. Twelve girls parade through the streets (departing from San Pietro in Castello and arriving at the stage in S.t Mark's Square) giving thanks to the Virgin Mary. In 973, pirates attacked Venice during the ceremony and girls were kidnapped. Legend has it that they were rescued by the Virgin Mary so the procession still honors her.
During carnival you can attend daily costume parades, an easy and economical way to take photos. Head to Mark's Square. The Best Masked Costume Competition will take place here until the daily winners compete for the grand prize in the final parade on the last Sunday of carnival. Savor cicchetti (Venetian tapas) at a bacaro (bar)! Try Venetian Carnival specialties such as frittole, delicious fried dough balls perfumed with liqueur and served with powdered sugar.
Venice Carnival is mostly public during the day but, during the night, private Venetian Masquerade Balls abound. Held in historic palaces, each event is exclusive and will set you back a pretty penny. But what more could you want at carnival? It's a time to celebrate so go ahead, treat yourself. Buon Carnevale!