In The Menu, the deliciously wicked new movie by Mark Mylod, Chef Slowick (played to perfection by Ralph Fiennes) tells the wealthy patrons, who paid $1,200 a plate to dine at his restaurant Hawthorn, to "consider every morsel that you place inside your mouth. Be mindful. But do not eat. Our menu is too precious for that."
If you've ever dined on haute cuisine, you've often felt the food was too precious to eat. It's so exquisitely plated as to leave you feeling as if you should just admire the skill and craft it took to place that tiny herb just so. We have the Michelin Guide to thank for that.
Since 1900, the Michelin Guide has been the foremost authority on the world's best restaurants and gaining a star has been as voraciously sought after as the perfect Tuscan truffle. In the past, you could only get a star if you had the requisite white tablecloth and butler-like, automaton service. Thankfully, that has changed in recent years as the Michelin Guide has made a concentrated effort to include more restaurants with a joyous and convivial atmosphere.
Today, more than 2,500 restaurants across six continents have garnered at least one star. No city has more Michelin stars than Paris, France. The French capital boasts 118 Michelin-starred restaurants, from venerable faves such as Restaurant Guy Savoy to newbies such as Granite. While each displays its artistry, we've narrowed down our list to the top five Michelin restaurants in Paris. Ones where food and service are impeccable but not highfalutin, where food is to be savored, considered and most importantly, eaten!
Etsi
The Michelin Guide to Paris doesn't feature many Greek restaurants but one of the standouts is Etsi in Montmartre. Chef Mickaela Liaroutos got her start under Chef Michel Rostang at Michelin two–starred Maison Rostang but branched out in 2017 to create Etsi, an homage to her roots on the island of Serifos.
The requisite sea blue dots the walls under sundial mirrors and over rustic seating. Expect carefully sourced produce and cheese from the Peloponnese and a lavish mishmash of flavors harkening to her childhood summers spent in Greece. Capers and bottarga find their way onto dishes such pastourma and pita filled to the brim with meat dripping in fat.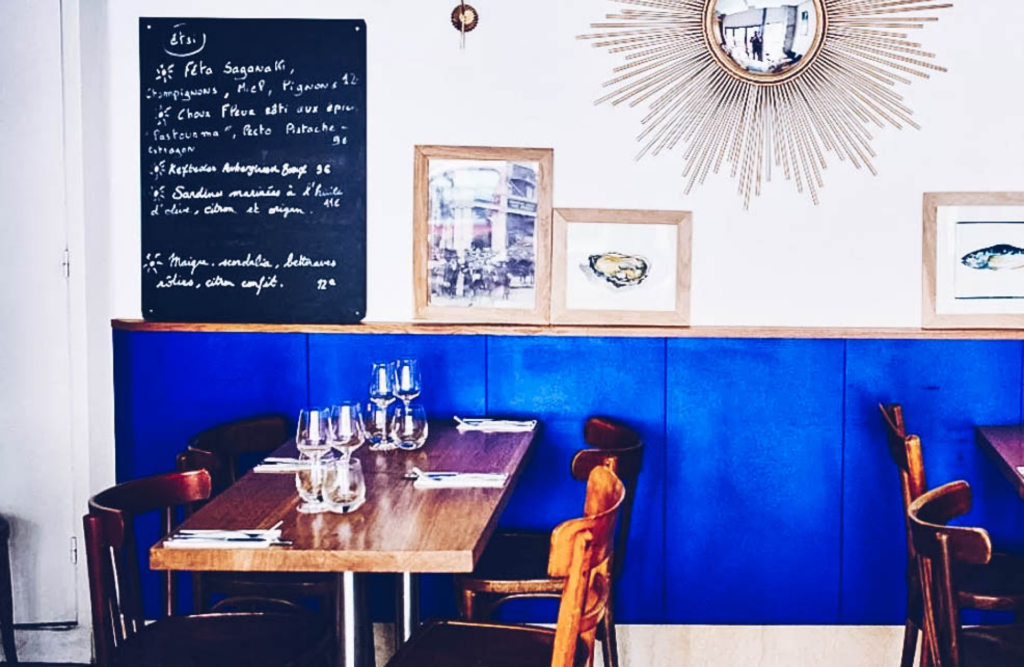 Liza
Beirut is considered the "Paris of the Middle East" with good reason. Art, architecture and food reign supreme there. At Liza, owner Liza Asseily brings the spice and flavors of her hometown to Paris' 2nd arrondissement. Think elevated mezze with both traditional and creative ingredients. Savor spicy kebbe (ground meat fritters) topped with basil sauce or fattet batinjane (eggplant and minced beef) mixed with croutons and oh-so garlicky yogurt.
Drinks run the gamut from French and Lebanese wine to signature cocktails such as the refreshing Liza Beirut, made of skinos (Greek liqueur from the mastiha tree) and homemade lemonade. Interiors feature leafy wallpaper, rattan seating and hardwood floors, evoking the feeling of home.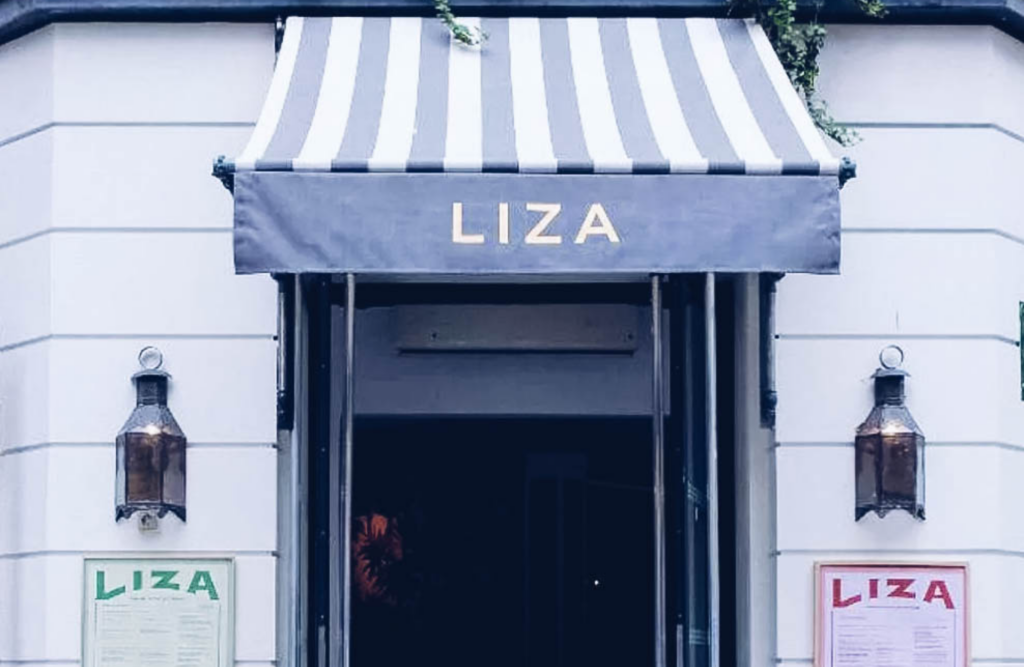 Passioné
The name means passion and boy does Chef Satoshi Horiuchi serve it in droves at Passioné in the 9th arrondissement. Glide through a dark yet inviting space with low lighting, velvet chairs, leather banquettes and speckled tabletops. The five- or seven-course tasting menu, decidedly French in construction, boasts an array of flavors that harken to Horiuchi's hometown of Hokkaido, Japan.
The amuse bouche will do just that—make your mouth happy. Ever-changing dishes skew towards fish with tuna, scallops and fish roe taking center stage as starters or entrees (vegetarian and gluten-free options are available). Crispy yet chewy pavlova with apples and rose petals is the menu highlight and will almost make you lick your plate. Almost.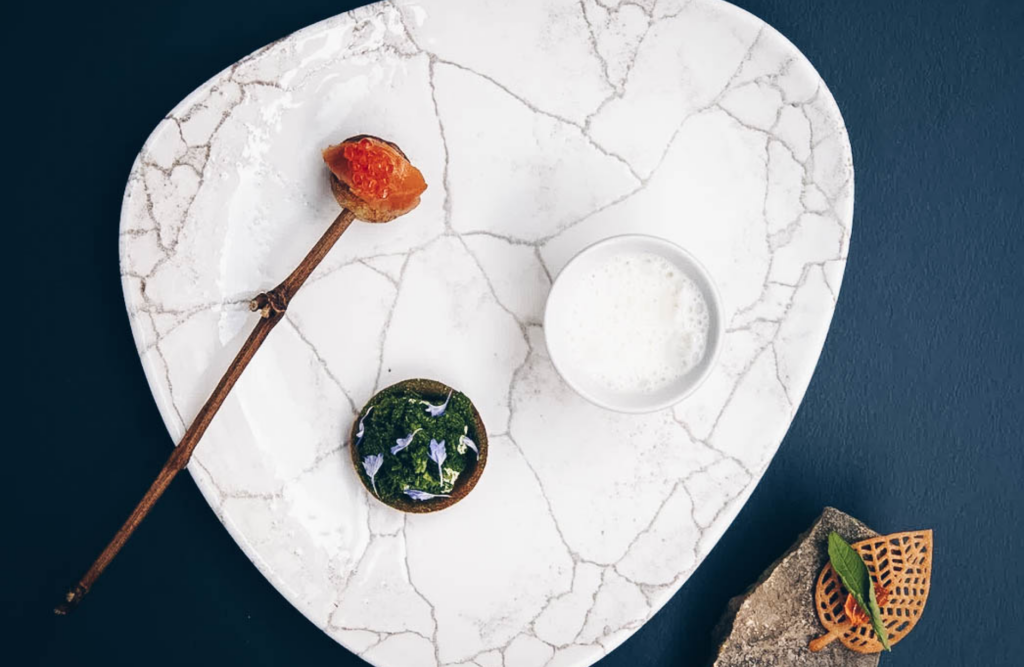 Pottoka
Basque cuisine is finally getting its day in the sun thanks to Asador Etxebarri and Elkano, both top restaurants in Basque country. But you don't have to travel there to get the real deal. At Pottoka, Sébastien Gravé has left his mark on the Parisian dining scene thanks to creative dishes that burst with flavor and texture. Hence why it's one of our favorite restaurants in Paris.
Menu highlights include crispy mussels in a sweet but savory lemon broth, and monkfish with raw cauliflower and pistachio praline all covered with a light cloth of mousseline, a hollandaise-like sauce made with whipped cream. The environs are as convivial as Gravé himself: think blond wood tables in close proximity to each other, leather banquettes and subway tiles.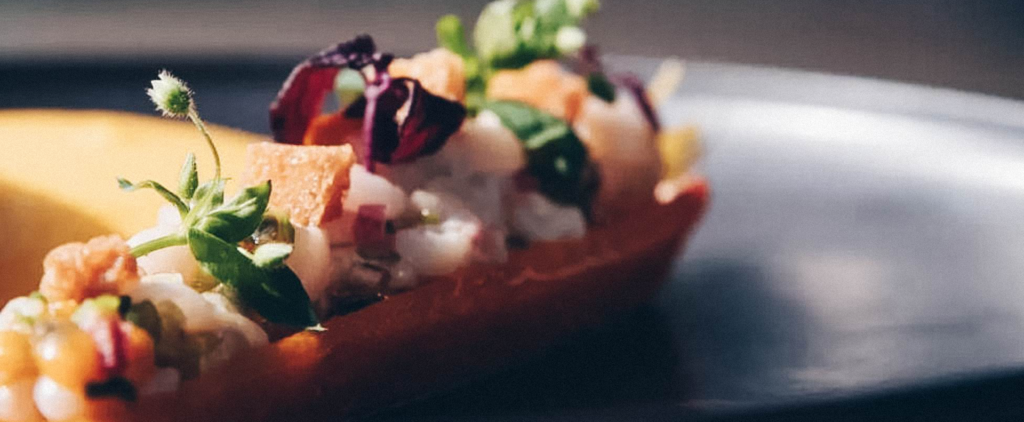 Thiou
Hidden in the 7th arrondissement lies Thiou, one of the few Thai eateries that has been written about in the Michelin Guide. Chef/owner Apiradee Thirakomen, nicknamed Thiou, recreates her favorite Thai dishes using locally sourced ingredients.
Start your meal with the redfish and avocado ceviche topped with tobiko eggs. Dine on fatty stir-fried duck breast with fragrant lemongrass and pungent fingerroot. Both dishes are served with a smile thanks to a staff that is as kind as they are attentive. Inside, the mood is decidedly relaxed and inviting with white tablecloths, supple leather banquettes and plush velvet seating.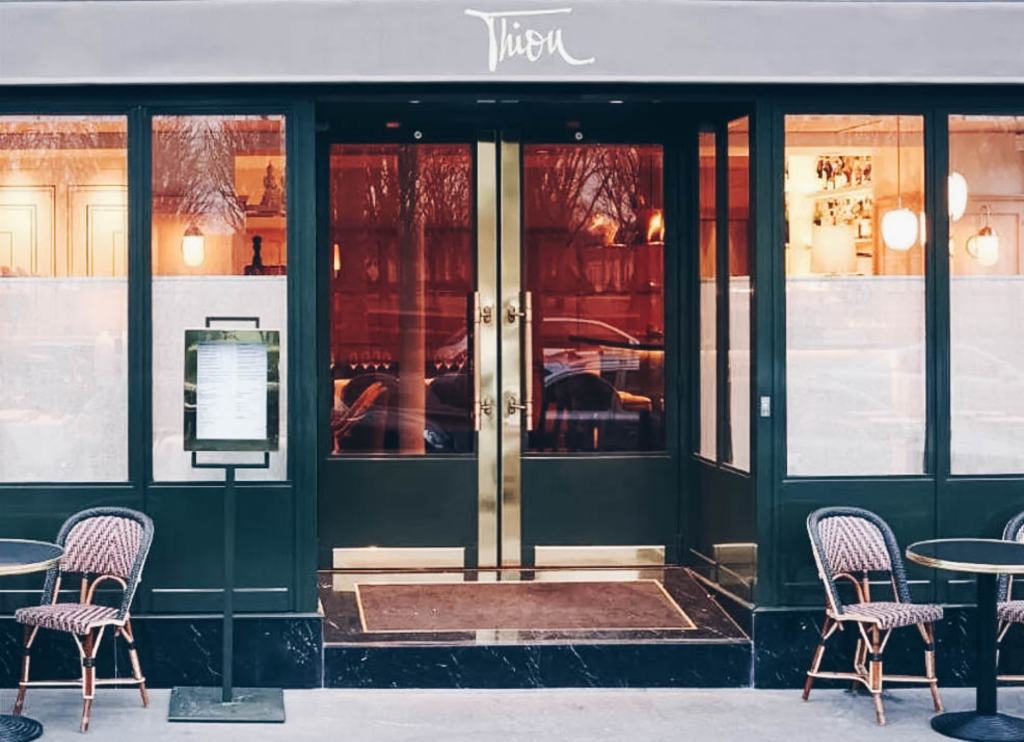 Honorable mention: While not yet a Michelin-starred restaurant in Paris, Bistro V, in the tony Port Royal district should get a star. Owner Julie invites patrons into the cozy space, replete with Art Deco floors and exposed brick. The menu boasts haute cuisine that is never stuffy even though it fills you up.
Dine on modern French dishes with strong flavors—the hearty, chestnut-packed, cheese-centric fennel casserole is a perennial favorite. Stay for spontaneous karaoke after-hours with Julie, who has the voice of an angel.