Welcome back to Oktoberfest, the world's greatest party. For two weeks each autumn, six million people dressed in lederhosen and dirndls descend on the beautiful Bavarian city of Munich, Germany, to drink beer, eat bratwurst and bellow along to big brass oompah bands. After a two-year absence (thanks to you-know-what) at noon on Saturday, September 17, the Lord Mayor of Munich will tap the first keg of beer, shout "O'Zapft Is!" (it's tapped!) and Oktoberfest 2022 will begin. Bigger, brasher, and better than ever before. Prost!
The history of Oktoberfest
Now the world's largest folk festival, Oktoberfest began in 1810 as a horse race to celebrate the nuptials of Crown Prince Ludwig of Bavaria and Princess Therese of Saxony-Hildburghausen. All of Munich was invited to attend the event, which was held in a meadow on the outskirts of the city, the area now known as Theresienwiese or Weisn for short, where Oktoberfest has been held for more than 200 years.
Naturally, those thirsty Bavarians wanted more. The following year, the Bavarian Agricultural Association took over and used the autumn festival as an opportunity to showcase their farming achievements. Again, beer and brats were involved and a beer drinking legend was born. Now a firm part of European lore, the tradition has sparked hundreds of Oktoberfest celebrations all across the world.
But apart from the crowds of thirsty, leather-clad Bavarians, what can we expect after the two-year absence?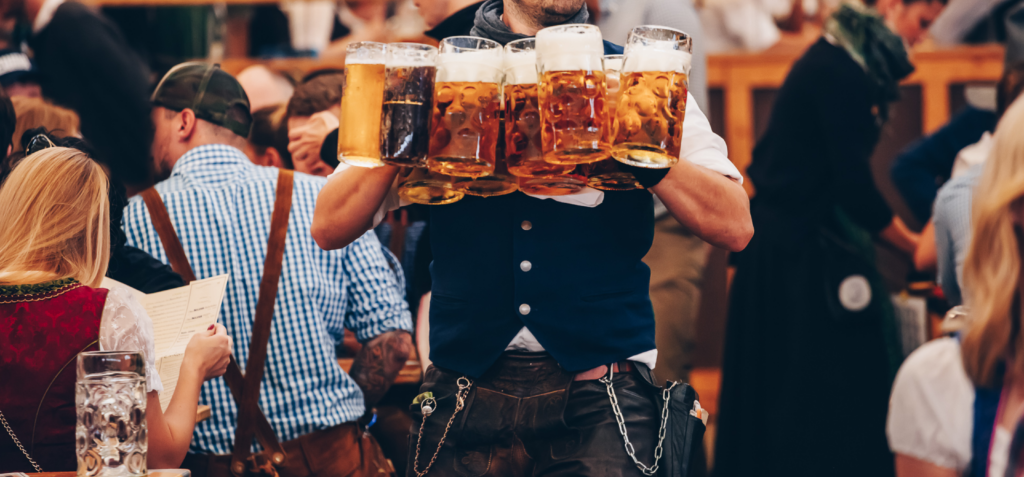 Beer tents galore
This year, there are 14 large tents and 22 small tents, plus numerous beer stalls and food stands to sate the millions who visit. Oktoberfest's beer tents are truly a sight to be seen. Seating up to 10,000 people, the vast airplane hangar-sized tents are adorned with colorful ribboned canopies, sturdy wooden benches and are serviced by hundreds of traditionally costumed männer und frauen brandishing a dozen liter-sized steins of beer known as maß. They are largely run by Munich's main breweries including Augustiner, Hacker-Pschorr, Hofbräu, Löwenbräu, Paulaner and Spaten.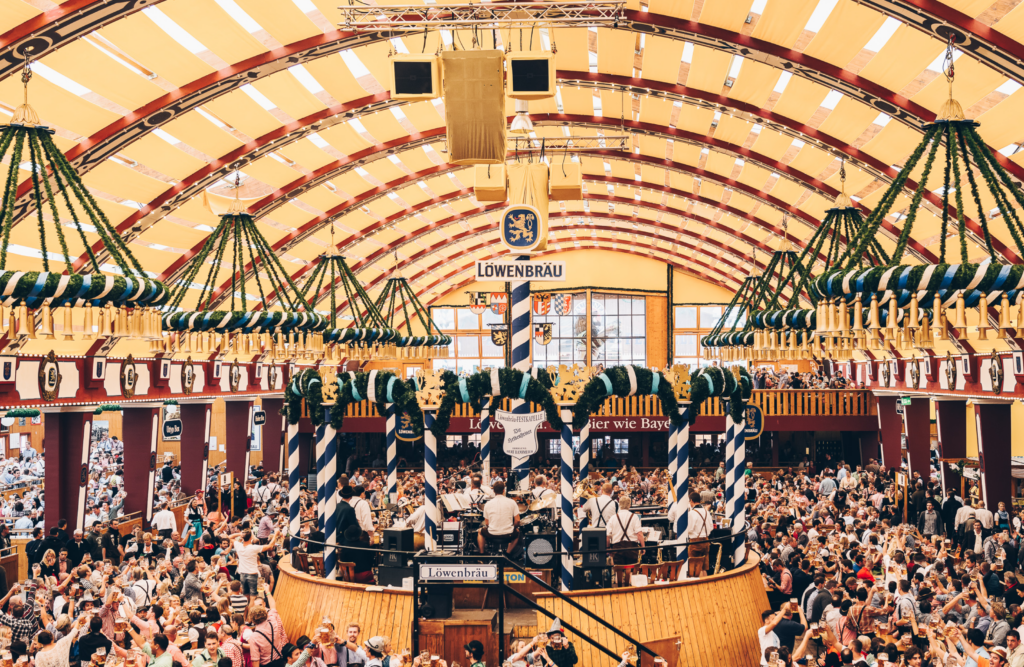 It's easy to get your bearings entering Wiesn as the meadow is largely split in two. On the west side is Wirtsbudenstraße, where the majority of beer tents are, while on the east side, Schaustellerstraße and the fairground attractions. Both sides are connected by a criss-cross of avenues, the largest being Matthias-Pschorr-Straße in front of Lady Bavaria.
One of the most popular tents is the Hofbräu, run by the historic Hofbräuhaus, the oldest beer hall in Munich. The largest tent at Oktoberfest, it seats 10,000 thirsty fellows and serves an impressive 750,000 liters of beer throughout the festival. It's a real party tent and attracts the most non-native visitors to Oktoberfest—so expect to be surrounded by tipsy Brits, Americans and Australians. Tables get booked up to a year in advance, although the Hofbräu always keeps a large area of unreserved seating and standing (dancing) room, too. For the best chance, visit during the week or arrive early at the weekends.
Bavarian heaven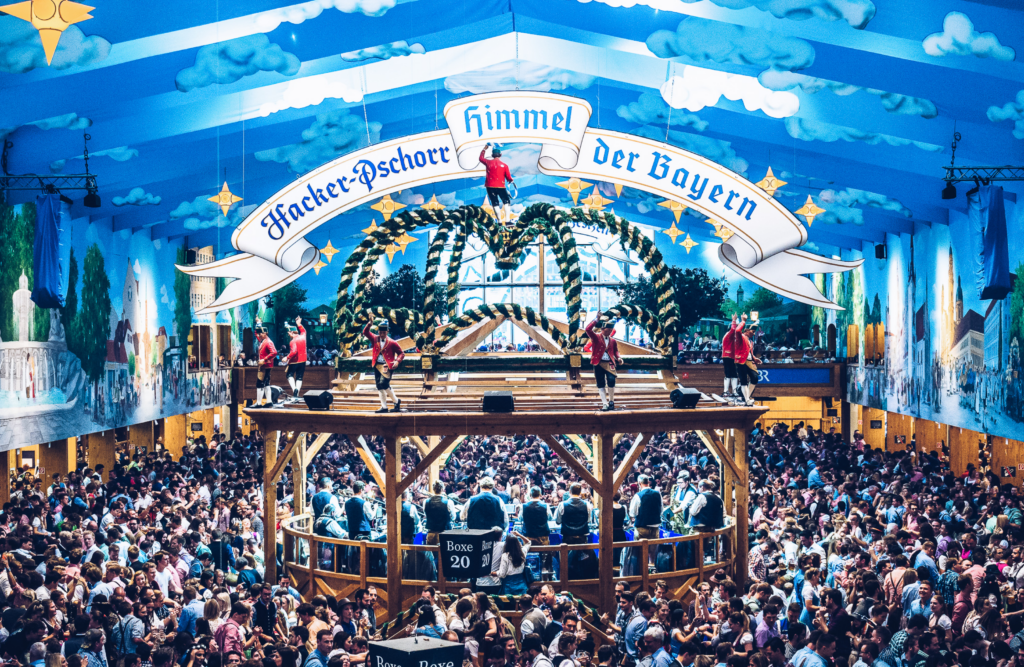 Hacker-Pschorr, known as Bavarian Heaven thanks to its huge blue-sky mural of Munich splashed across the walls and ceiling, is your next best option. With 9,000 seats, it's a smidge smaller than Hofbräu but it's just as popular thanks to its central rotating bandstand where live bands play traditional folk music as well as classic rock anthems as the night goes on. Note: Oktoberfest is not the place to be snooty about music. Book a seat on the first-floor balcony for the best view of the party. Naturally, it serves Hacker-Pschorr beer, another of Munich's traditional breweries, which has been producing fine brews since 1417. The Hacker is also the best spot to watch the Oktoberfest closing ceremony, where the crowd waves sparklers and sings the German anthem Sierra Madre.
Oktoberfest traditionalists head to Schottenhamel, the oldest tent at Oktoberfest which dates back to 1867. Now one of the largest tents, many of the 9,000 seats are filled with a local crowd who favor it over other tents thanks to its smooth Spaten beer and music from the Otto Schwarzfischer Band. It's worth reserving a table as far ahead as you can, as even the unreserved sections can fill up quickly. Schottenhamel is also the focus of the opening ceremony when the Lord Mayor of Munich taps the first keg signaling the start of Oktoberfest.
Yodeling central
If you're after the true Oktoberfest experience—complete with yodeling—head to the Bräurosl, which has been entirely rebuilt this year. Named after the brewmaster's daughter, Rosi—a fine yodeller who would entertain Wiesn's crowds every year—it's also home to Gay Sunday, Rosa Wiesn, a huge LGBTQ+ party held on the first Sunday (September 18, 2022). This year, the Bräurosl welcomes Peter Reichert as its new host, as the Heide family retired after 84 years of service, and a new orchestra led by Josef Menzl, a man renowned for his 'wild' Bavarian tunes.
For the best music (according to the locals) head to the Schützen tent, named for when Wiesn hosted shooting tournaments. The house band led by Walter Bankhammer, regularly wins the "Best Music of Wiesn" award for its mix of traditional and rock and pop. Seating some 6,000 visitors, it's also the closest tent to the Lady Bavaria statue. While the beer du jour is Löwenbräu, the Schützen is one of the rare tents, which also has a regular bar serving wine, champagne, spirits and schnapps.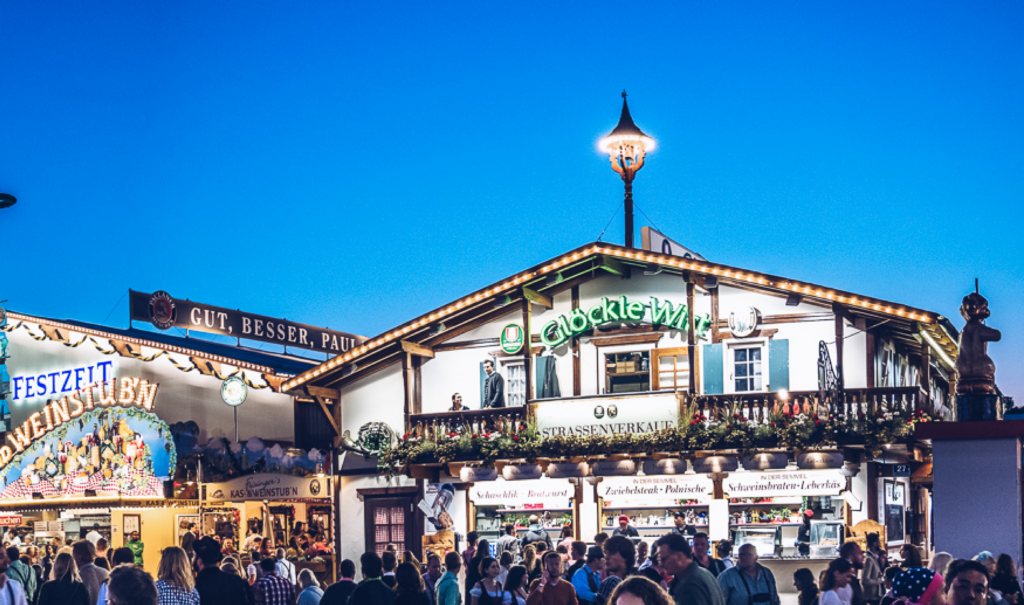 While the rowdy and raucous atmosphere in the larger tents is what many people come to Oktoberfest for, there's just as much fun to be had in the smaller tents. The Käfer Tavern has a loyal local clientele and offers a more intimate vibe than the Hofbräu and the Hacker. Decked out like a Bavarian log cabin and spread out over two floors, it has a rustic appeal with an aprés ski atmosphere. It also has a lively beer garden, which has become a popular hangout after dark.
Glöckle Wirt is another favorite amongst the Munich crowd. Like stepping into an alpine lodge, Glöckle Wirt's pub-like atmosphere has become a favorite with local celebrities. Decorated with oil paintings, taxidermy, and cute and quirky antiques, it's a charming spot to hang out for an authentic Bavarian afternoon.
Oktoberfest is not just for beer lovers. Oenophiles are more than welcome in Kuffler's wine tent, which is decorated like a royal hunting lodge, to sample some of the 25 different German wines on offer.
OktoberFEAST
Beer aside, the biggest draw to Munich's marvelous beerfest is the food. Naturally, there's more on offer than giant beer-soaking pretzels. Each tent has its own take on Oktoberfest food with menus dominated by bratwurst, roast chicken, ox, and pork knuckles.
Meat lovers should book a table at Spatenbräu Ochsenbraterei, the oxen tent, which cooks up to seven ox on the rotisserie every day. If you can't get a table, nip to the side-door stall for one of its legendary (and giant) beef sandwiches. Wiener schnitzel is another classic Oktoberfest dish, where thin veal steaks are bashed, breaded and deep fried and served with cranberries and potatoes. But it's not all meat, meat, meat, the Fischer-Vroni tent is definitely for the gourmet visitor and serves the best steckerlfisch 'smoked fish on a stick' in Munich.
While the menus are meat-heavy, there are vegetarian and vegan options at Oktoberfest. Try obatzda, a Bavarian cheese dip served with radishes and a pretzel, or Allgäu cheese spaetzle, which is a German version of macaroni cheese. Another Oktoberfest tradition is lebkuchenherz, the cutesy heart-shaped ginger cookies on ribbons that can be found everywhere.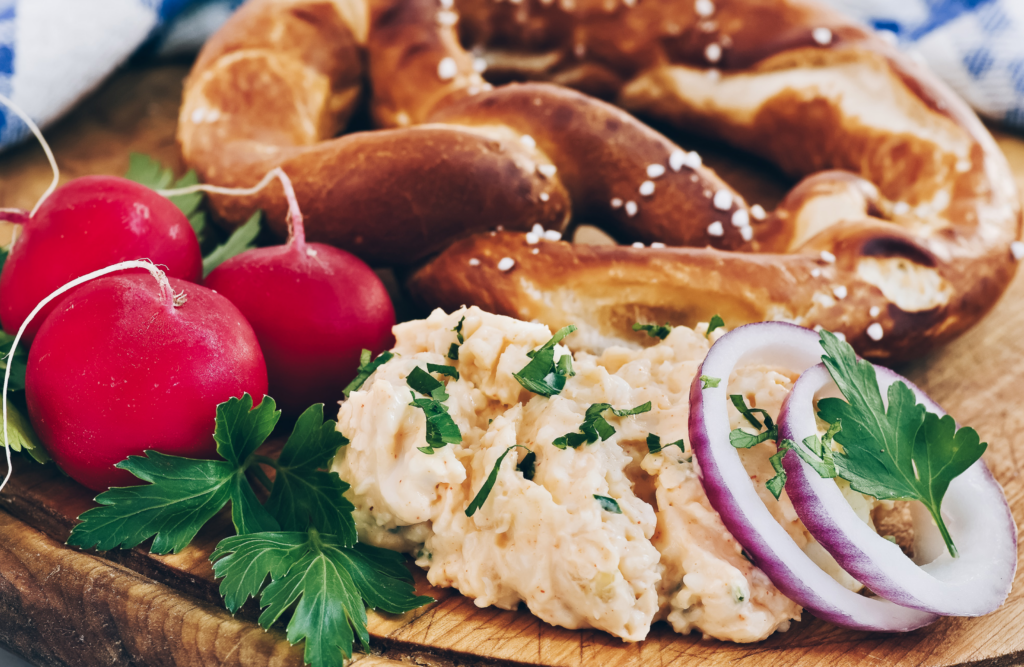 If your energy levels start to flag, wander over to Café Kaiserschmarrn, the giant gingerbread house built by the Munich confectioner, Rischart. Alongside a wide range of coffees and pastries, it serves kaiserschmarrn, chopped-up pancakes dusted in sugar and served with apple or plum sauce. Every day at 2 p.m., a giant wedding cake is cut and handed out in honor of the wedding between Prince Ludwig and Princess Therese. While the tent doesn't serve beer, it's not completely dry with prosecco and spritz readily available.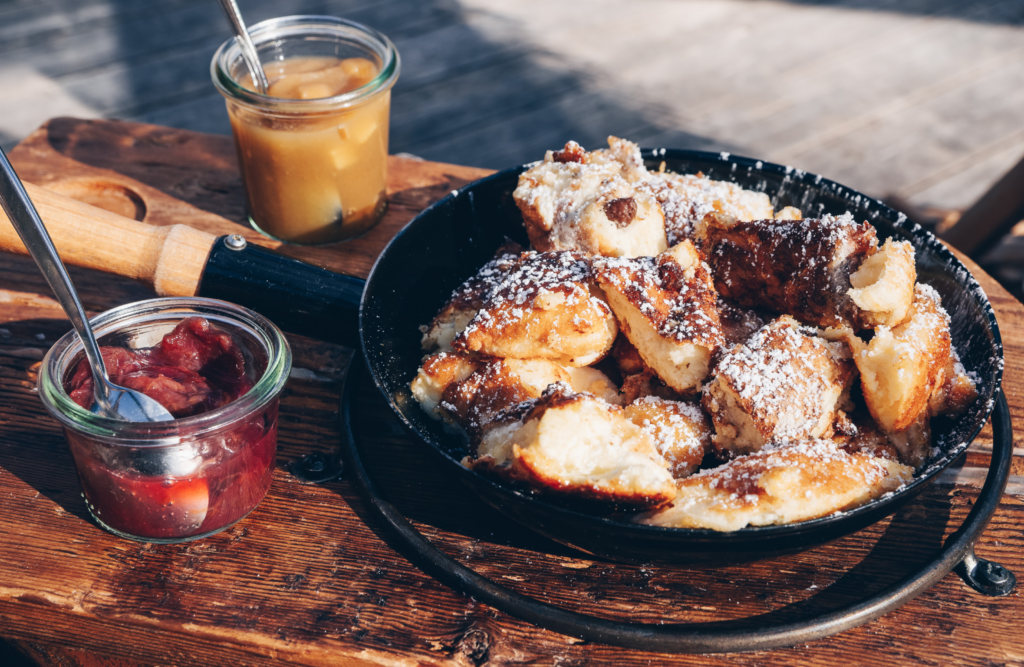 Dress to impress
While it's not mandatory to dress in traditional German costume at Oktoberfest, dressing up like an extra from The Sound of Music will certainly enhance your Wiesn experience so have that traditional Oktoberfest outfit or costume handy. Leather lederhosen, embroidered braces, and a Tyrolean feather hat, swirling dirndls, delicate blouses and aprons, the more authentic the better. Just try to avoid the fancy dress "sexy fraulein" costumes.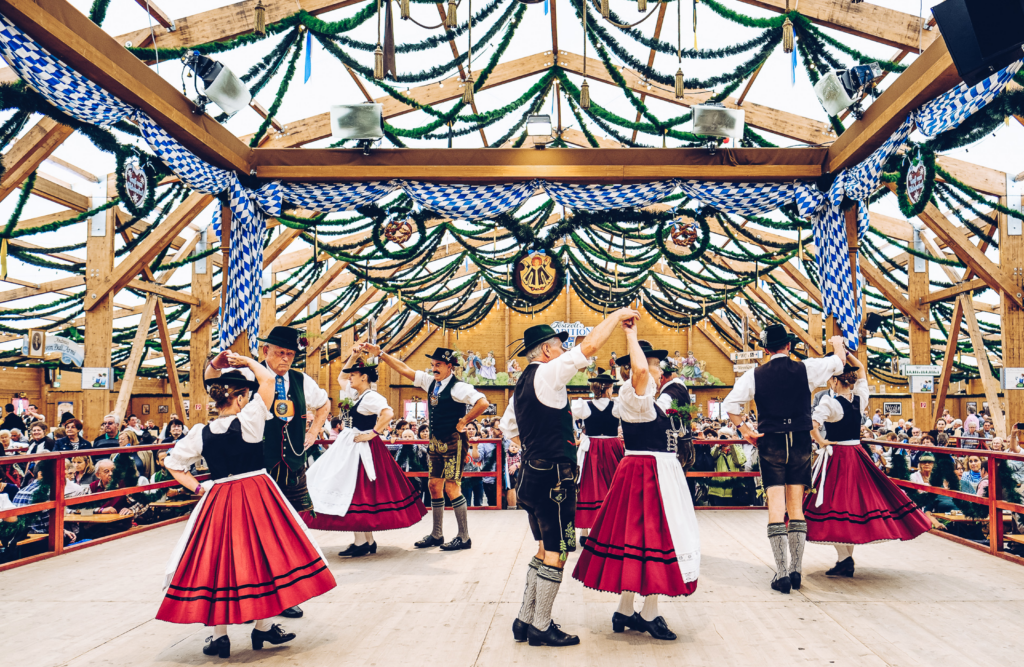 Fairground attraction
The Munich Oktoberfest is not all about beer and bratwurst, it's one of Europe's largest traveling funfairs. Of course, after a day of drinking beer, it's always a good idea to hit the rollercoasters. While adrenaline junkies head for the Five Loops coaster and SkyFall, a 262-foot-high drop tower, the more traditional fairground fans might choose to ride the Wellenflug (flying chairs) or the Toboggan, a vintage helter-skelter-cum-moving carpet ride which is as much fun to watch as it is to ride. Finally, if you only choose one ride in all of Oktoberfest, make sure it's the Willenborg Ferris wheel. At 164 feet high, it has spectacular views over the Old Town and, on a clear day, as far as the Alps.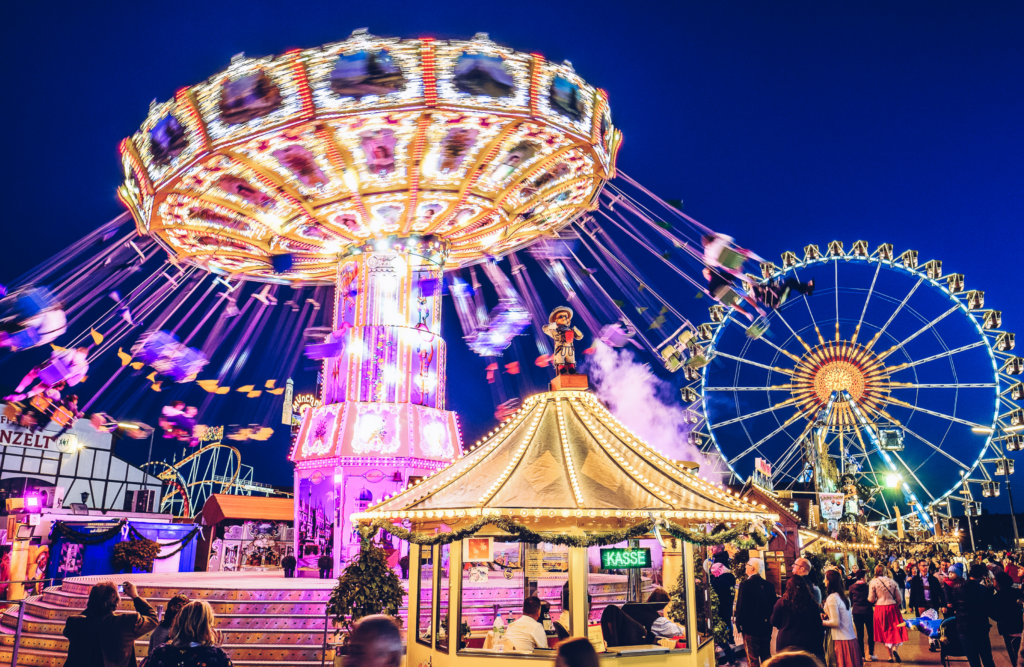 Highlights of Oktoberfest
You could attend Oktoberfest for a month and still not see everything. Here are three highlights for any first-time visitor.
Get "executed" at Schichtl
For rollicking Bavarian fun head to Schichtl, a gloriously gaudy vaudeville theater that dates back to 1867. Alongside the daily parade and shows, the Schichtl is famous for its "executions" by guillotine on unsuspecting members of the audience.
Visit Oide Wiesn
Oide Wiesn (Old Oktoberfest) was introduced in 2010 to celebrate its 200th anniversary. Now a permanent feature, the traditional quarter of Wiesn is charming and has vintage fairground attractions like 'Dicke Berta' which tests your muscles, a trio of beer tents, including the family-friendly Festzelt Tradition, and Munich's marvelous Marionettentheater.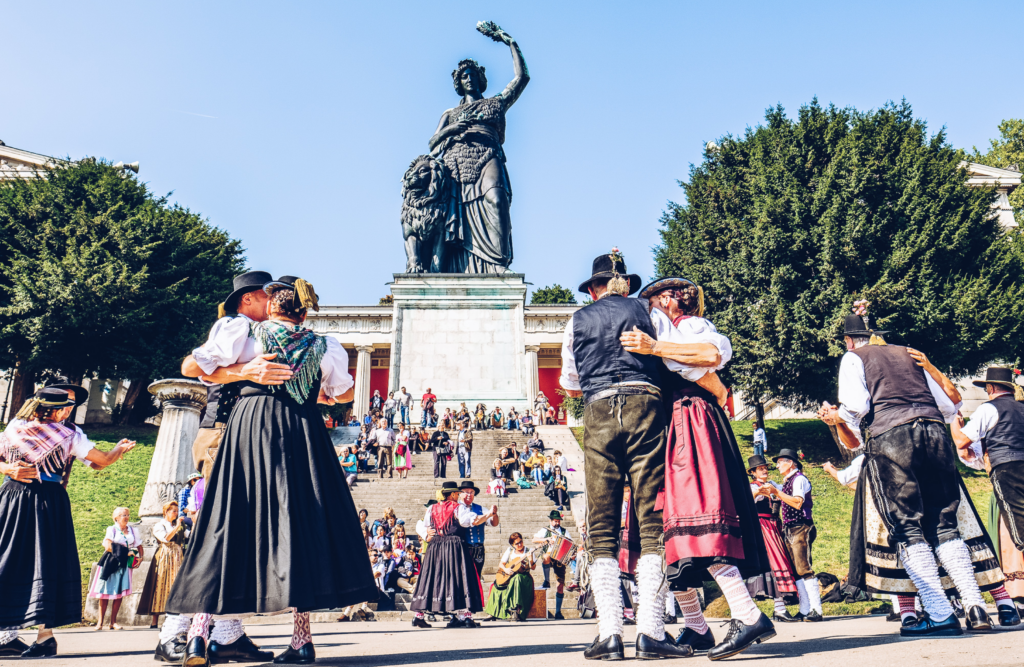 Climb Lady Bavaria
Commissioned by King Ludwig I and unveiled in 1850, the 59-foot-high statue of Lady Bavaria has overseen the boozy shenanigans of Oktoberfest for more than 170 years. Visitors can climb up inside the statue for a great view over the entire Wiesn.
Oktoberfest top tips
Reserve tables in advance
Entry to the festival is always free and most beer tents are open from 10 a.m. to 10.30 p.m. (some have after parties). Naturally, the weekends are the busiest as locals flock to celebrate, so it's best to reserve a table. Download the official Oktoberfest app which shows the tents which have spare seating, which can be a real time saver.
Don't forget to tip
Remember, the friendly dirndl or lederhosen-clad servers who carry numerous steins at a time are your only source of alcohol, so it's important to tip them. A euro a beer is recommended.
Learn a song
A big part of enjoying Oktoberfest is the sing-along. All the beer tents host traditional German bands who will regularly break into 'Ein Prosit der Gemütlichkeit' every 30 minutes, so it's worth learning the lyrics.
– Ein Prosit, Ein Prosit
– der Gemütlichkeit
– Ein Prosit, Ein Prosit
– der Gemütlichkeit
– Oans! Zwoa! Drie!
– G'suffa!
So what are you waiting for? Pack your most authentic Bavarian garb, practice your Ein Prosit and get ready to join the world's biggest, booziest party.
Oktoberfest, we've missed you.