You know Switzerland for hiking in the summer and skiing in the winter. But to see a quieter but just as picturesque side to this alpine country, why not visit Switzerland in the fall/autumn, when train trips, bus rides, boat excursions, and hikes of all levels show off the country's colors at their finest?
Switzerland's autumnal colors tend to peak later than in other places, so it's usually best to visit between mid-October and early November to see the hues at their most radiant. Here's a look at the best fall foliage Switzerland has to offer, starting in the north and heading clockwise through the country, from the lake towns to the Swiss Alps.
Rhine Falls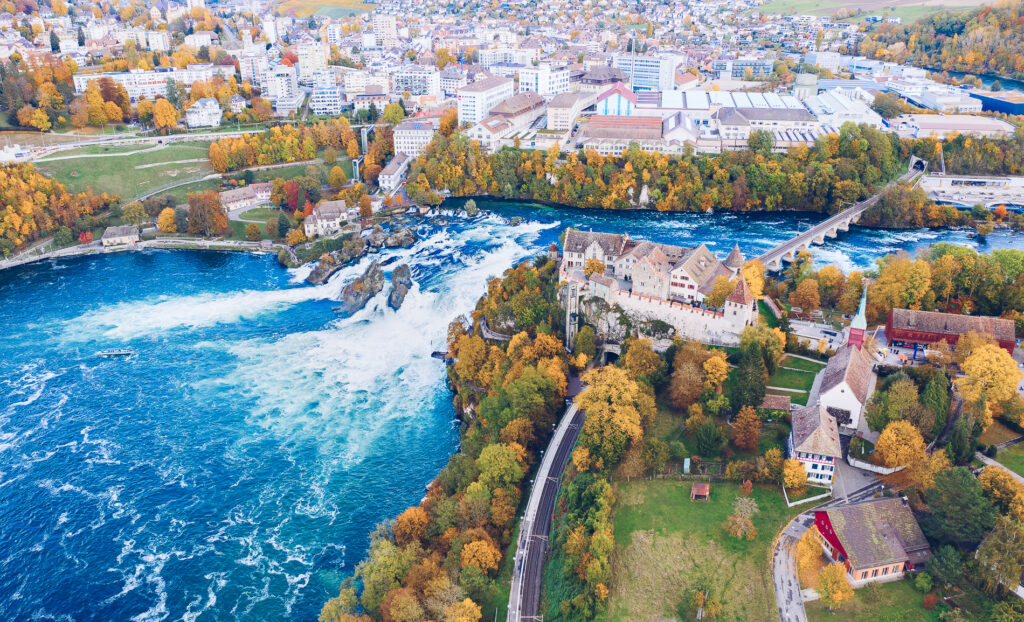 On the border with Germany, the largest waterfall in Switzerland is a spectacular sight at any time of year—but particularly so in the autumn, when bursts of color pop out in the forests along the sides of the Rhine River. For the best vantage point, walk along the river from the falls over to Rheinau, a cute village with a spectacular baroque Benedictine monastery, very much worth a stop in its own right.
Zurich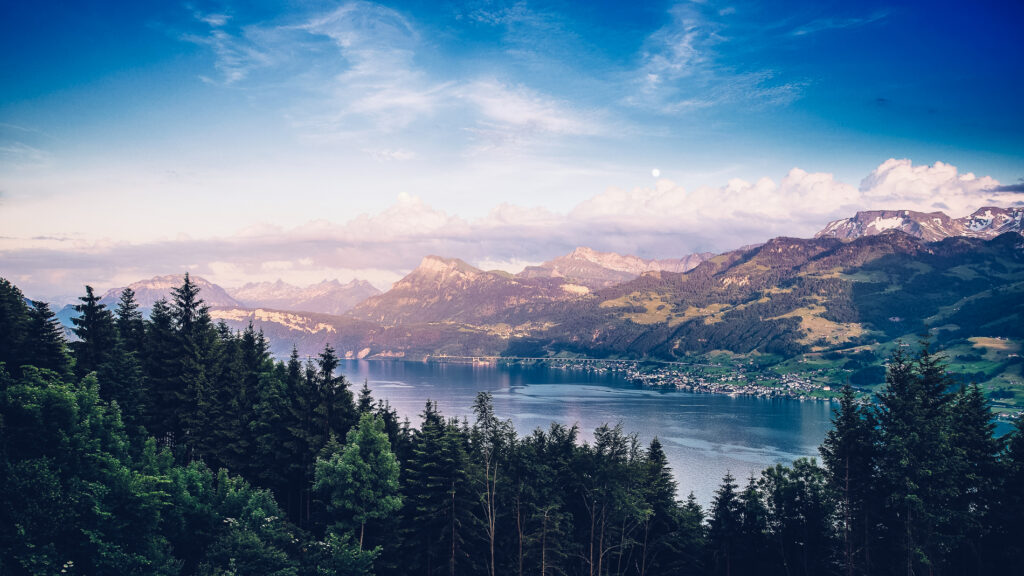 You likely know Zürich for banking and chocolate—but you may not know it also offers magnificent vistas from its very own mountain. On the west side of Lake Zürich, you'll find Üetliberg Mountain, a 2,850-foot peak where you can not only see magnificent views of Zürich itself but also get a panoramic look at the neighboring Albis mountains and Swiss Alps. The colors are typically at their finest in mid- to late October, and to get an even better view, follow the two-hour Planet Trail hiking path toward Felsenegg, glimpsing all the shimmering colors along the way.
Scuol & Tarasp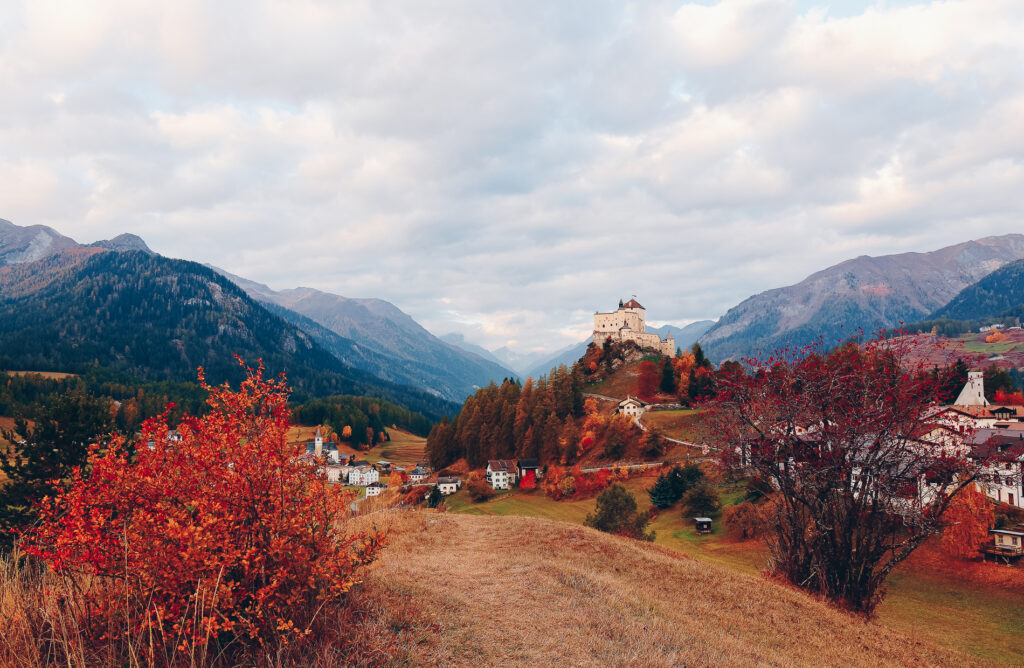 In Switzerland's primarily German-speaking Graubünden region, the village of Scuol contains pretty Engadine houses covered with sgraffito—an ancient art technique using layers of color—and relaxing thermal baths. It's also the starting point for some gorgeous fall scenery in the Engadine Mountains, especially to see the larches that blanket this area's steep slopes. After a short bus ride to neighboring Tarasp, go for a hike past mountain lakes surrounded by stunning colors and then on to Tarasp Castle. Renowned Swiss artist Not Vital owns this imposing 11th-century structure, which now hosts contemporary art exhibitions; sign up for guided tours in advance online.
St. Moritz & Lake Sils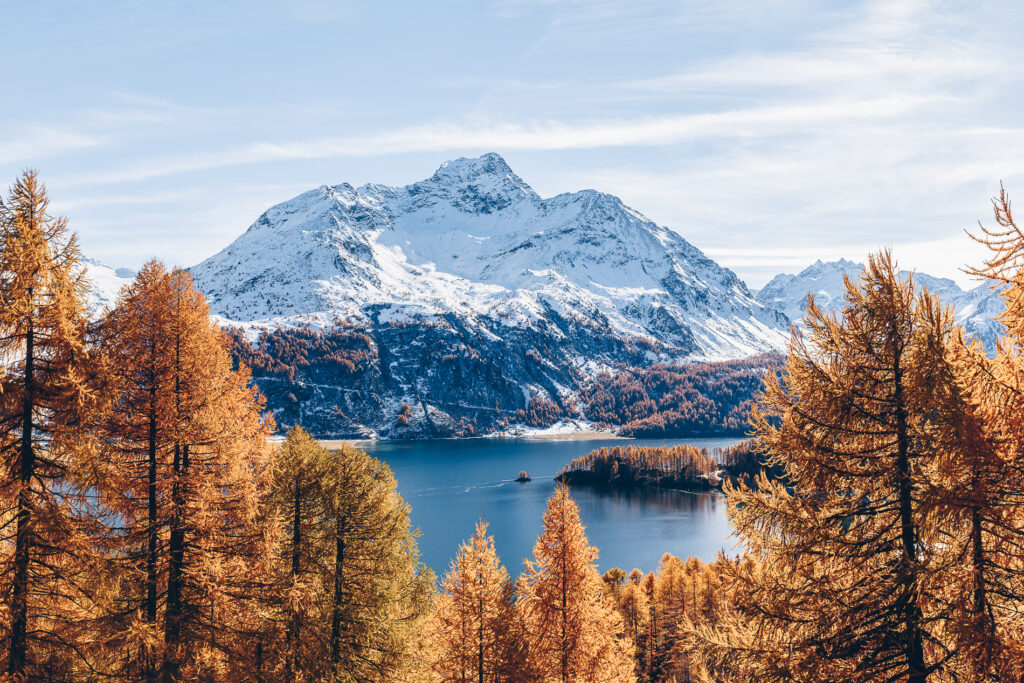 Travel southeast of Scuol toward the fabled winter resort town of St. Moritz. While strolling around the lake and window shopping at the town's fabulous stores are great ways to spend an afternoon, go a little further south to Lake Sils to see some truly astounding fall colors. For an easy way to view the yellow larches, take a gentle walk around the lake. Or for even better, though harder to reach, vistas, hike the panoramic trail from Maloja to Soglio. You'll marvel at mountain peaks mixed with trees turned a gorgeous yellow. Talk about fall in Switzerland!
Ascona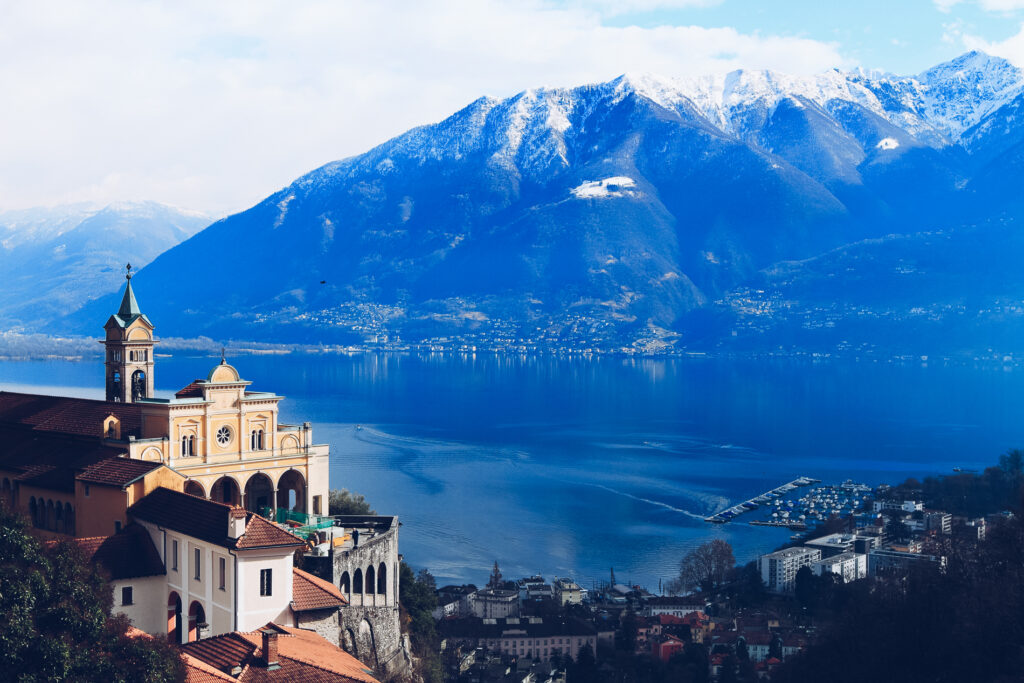 On the northwest side of Lake Maggiore, which straddles both Switzerland and Italy, sits Ascona, the country's lowest-lying town. Besides its lovely lake promenade lined with inviting cafes and an atmospheric 16th-century church, Ascona boasts a panoramic trail through the forests up to Monte Verità that affords wondrous views of the lake and colorful foliage. Since the town, in the Italian-speaking region of Ticino, is so far south, leaves usually don't change till late October, so plan accordingly to avoid disappointment.
Zermatt & Riffelalp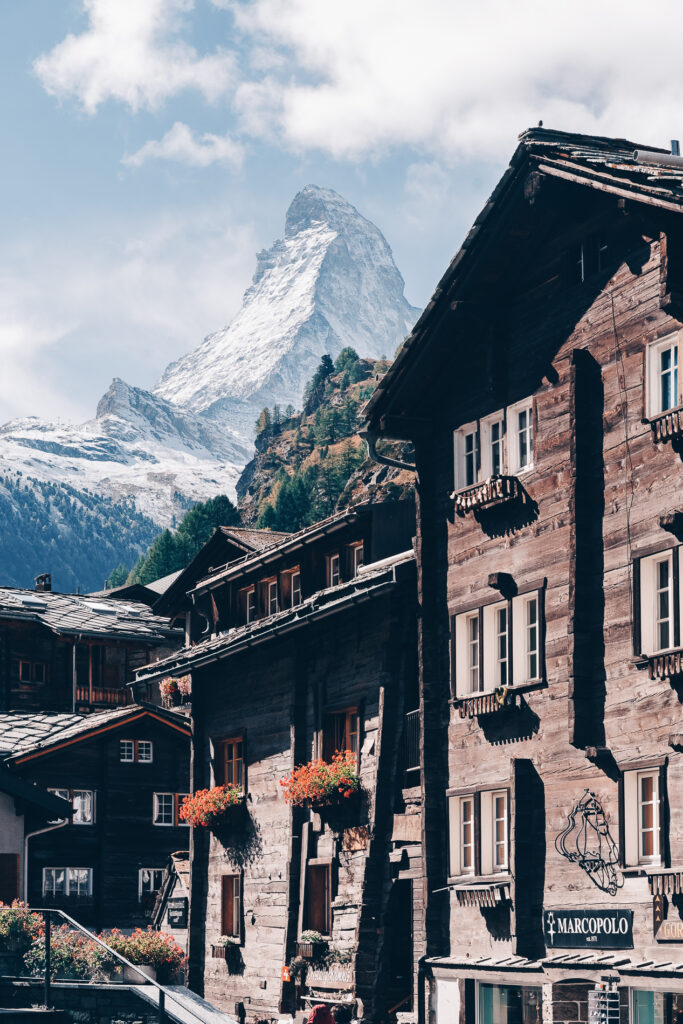 Travel northwest from Ascona, and you'll find yourself in one of Switzerland's most renowned (and busiest) winter resorts: Zermatt. Escape the crowds with a 15-minute cogwheel train—the Gornergrat mountain train—south to lovely Riffelalp. To see wonderful yellow larch trees, follow a scenic path from Riffelalp toward Sunnegga. As you enjoy fall in Switzerland, you'll pass three lovely lakes. If you'd rather train than walk, be sure to visit before mid-October when many trains from Zermatt stop running.
Riederalp & Aletsch Forest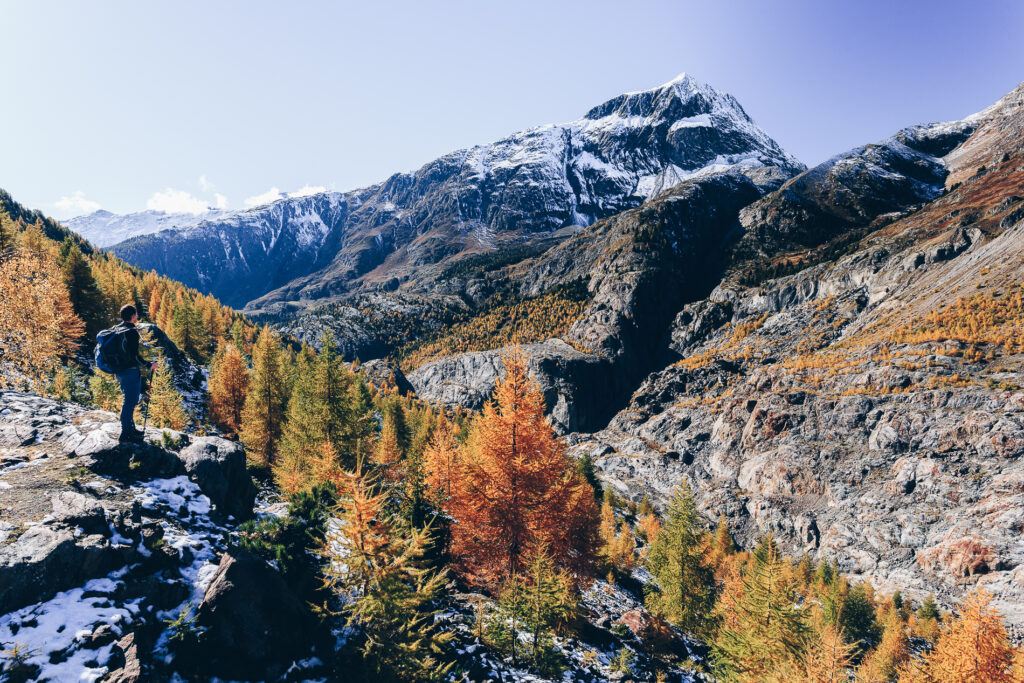 In Switzerland's Upper Valais region, you'll find Riederalp, a pretty car-free resort town. From here, you can spot the peaks of the Valais Alps (the Matterhorn and the Dom) and the biggest glacier in the Alps, the Aletsch Glacier. Plus, in the autumn, stop here to see some of the prettiest fall colors in Switzerland by hiking through the Aletsch Forest Preserve. Golden larches fill this mountain forest, and their yellow hues can be stunning—but be sure to time your visit right, as this southern Swiss area sometimes doesn't hit peak color until early November.
Interlaken & Lake Thun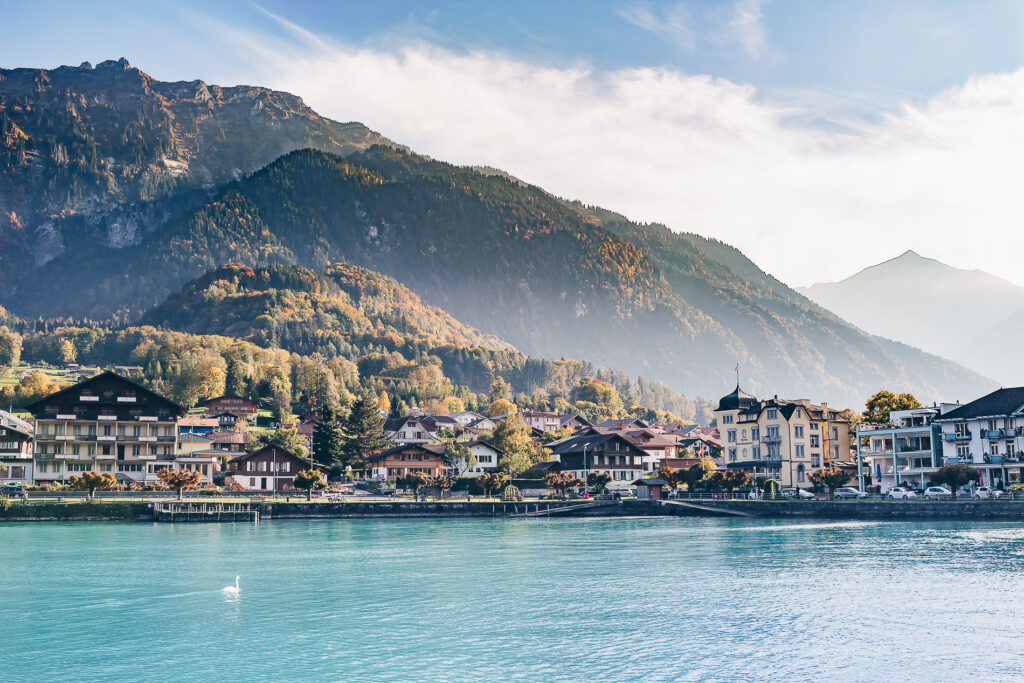 The resort town of Interlaken in Switzerland's Bernese Oberland region sits between Lake Thun and Lake Brienz. Though both lakes have their charms, Lake Thun, west of Interlaken, is home to more vineyards, especially in and around the town of Spiez. Some of them are even planted up to 2,133 feet above sea level. In the fall, the leaves turn wonderful shades of yellow, orange, and red. You can catch a boat around the lake for a relaxing way to see the colors of the leaves and the forests beyond. Along the way, you'll glimpse castles and medieval villages; hop off and explore wherever most catches your fancy. The entire trip around the lake takes about two hours.
Sion & Balavaux
Haute-Nendaz is one of the oldest cities in Switzerland. Credit: Shutterstock
Just west of Sion, one of Switzerland's oldest cities and the capital of the Valais region, you'll find Haute-Nendaz—starting point for the cable car to Tracouet mountain. On the mountaintop, 7,217 feet above sea level, sits lovely Tracouet Lake, also called "black lake" due to its deep, dark colors. From here, you have two options: walk up to Dent de Nendaz, where you have sweeping views of the Bernese Alps and the Rhone Valley, or walk down to Alp Balavaux, where you'll see some of the biggest and oldest larch trees in Europe; some are up to 800 years old. To catch their glowing golden needles, time your visit starting mid-October.
Gruyères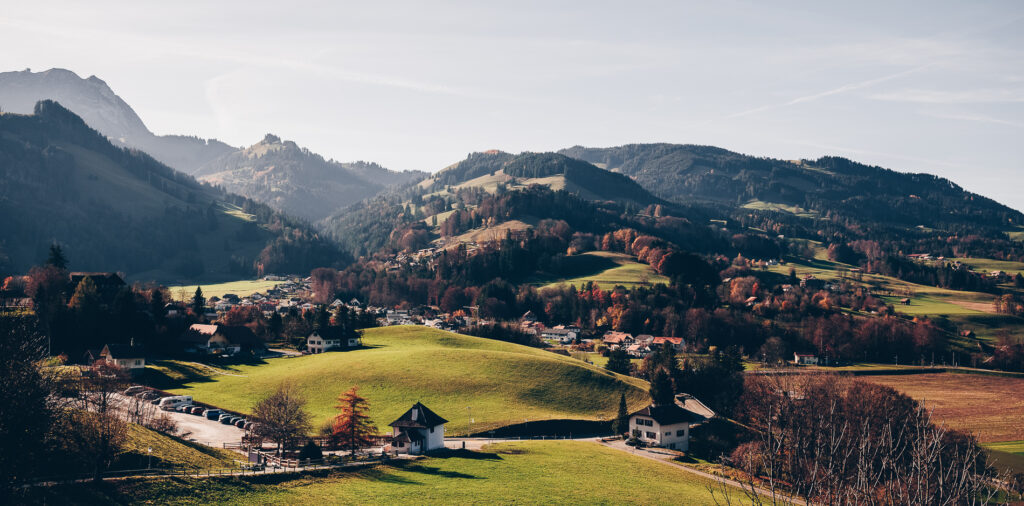 In Switzerland's Fribourg region, the alluring town of Gruyères isn't just about its namesake cheese (though, by all means, do indulge while you're here!). Autumn visitors will swoon over the colorful leaves in the forests above the rolling hills surrounding Gruyères. The town's hilltop perch offers mesmerizing views of Swiss fall foliage, along with the Pre-Alps peeking out from behind. To top it all off, Gruyères' lovely main square, traditional buildings, and 13th-century castle are all more than worth a visit. Plus, fall's the perfect time to indulge in this delightful town's famed fondue.
Lavaux Vineyards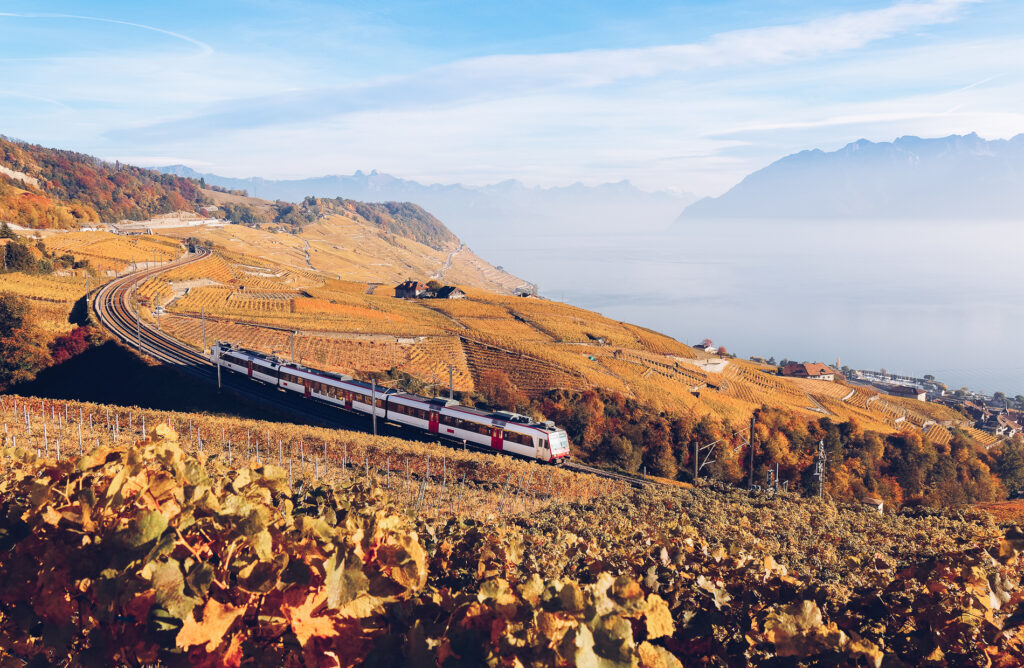 These terraced hillsides in Switzerland's Vaud region provide an extra bonus on top of leaf-peeping: luscious wines. The biggest continuous regions of vines in Switzerland, the Lavaux Vineyards between Lausanne and Montreux run for 30 km along the northern shores of Lake Léman (Lake Geneva)—and the vines blaze gold in the fall. To see the colors at their finest, hike the Terrasses de Lavaux, an easy trail that runs from St. Saphorin to Lutry, cutting directly through the vineyards with some stops in charming villages along the way. Or, if you prefer a more leisurely excursion, try the adorable Lavaux Express train (running through late October, perfect for seeing the fall colors), which follows a number of scenic routes right next to the grapevines. If you can, peel your eyes away from the scenery to sample some of the delightful local vintages, especially Chasselas and pinot noir.
The Three Lakes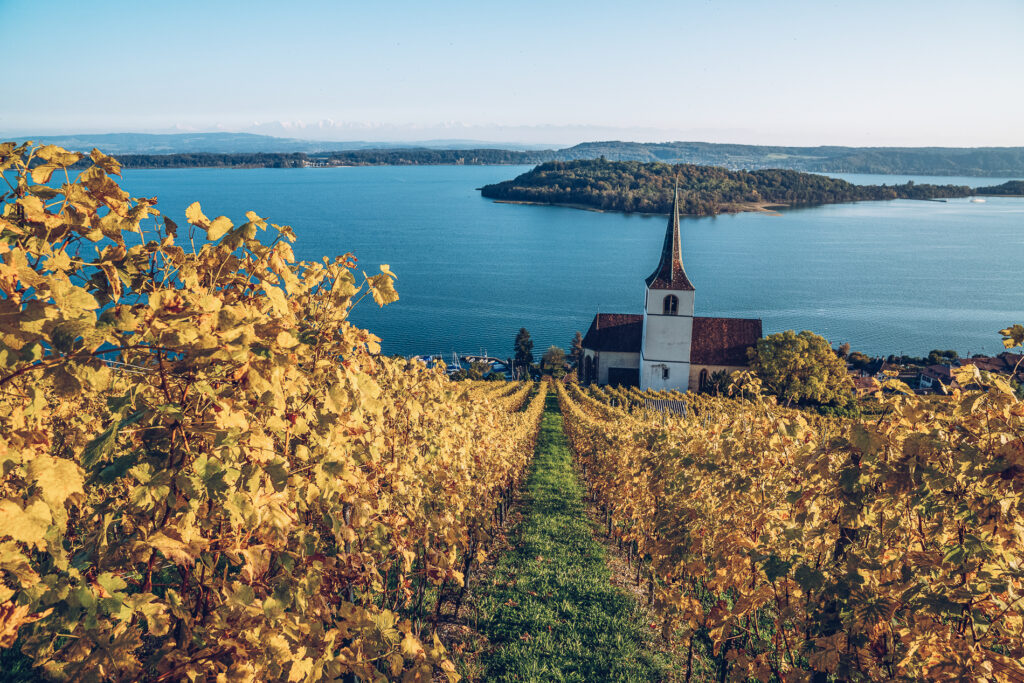 The Jura Crest Trail is one of the most popular long-distance trails in Switzerland, running for a total of nearly 200 miles. But if you don't have that much time, you can still traverse small sections of this area in Switzerland's Jura region to see the red and orange colors of sycamore maple trees every fall. Try a circular hike from Vue des Alpes, where you can gaze out at the Chasseral mountain off in the distance. Or head off the trail a bit farther north to take a funicular up Le Chaumont, where you'll enjoy views of the Three Lakes (Lake Neuchâtel, Lake Biel and Lake Murten). Mid- to late October are usually the best times to see the fall colors in Switzerland at their most vibrant.
Bern & Bütschelegg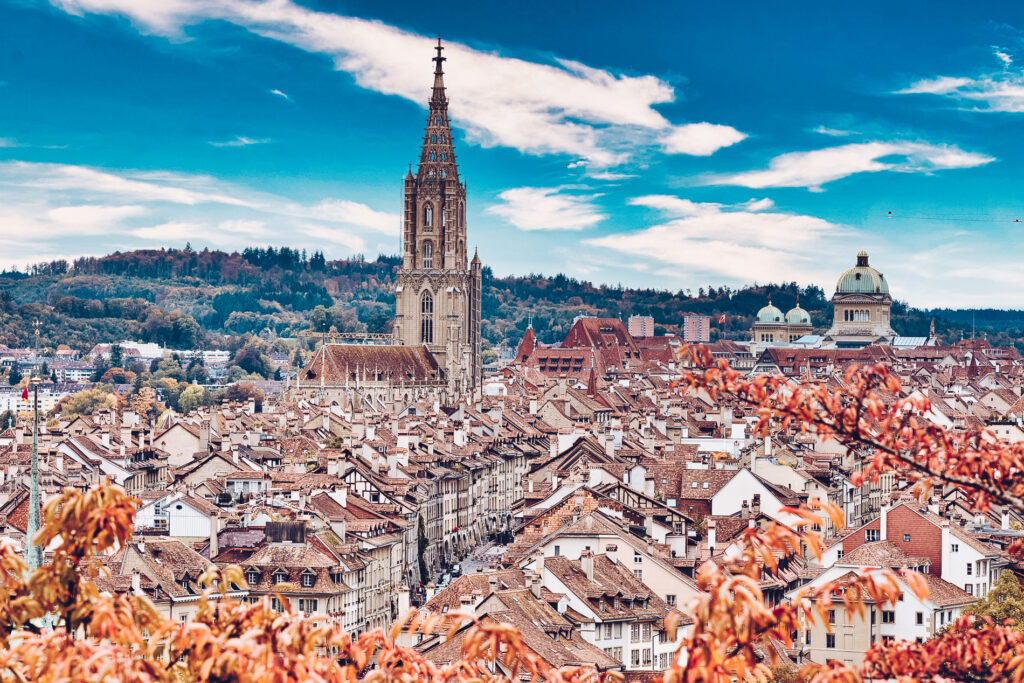 Switzerland's capital of Bern is a fun place to visit, with a lively 12th-century old town, imposing Swiss parliament buildings, a 14th-century clock tower, and interesting shops galore. Though you won't see much fall foliage in the city itself, just 12 miles south of Bern you'll hit Bütschelegg, home to hiking trails where you'll find leaves of many colors. As you wander amongst the trees, stop at a scenic outlook to catch enchanting views of the golden forests all the way down to Lake Thun.
Aargau Jurapark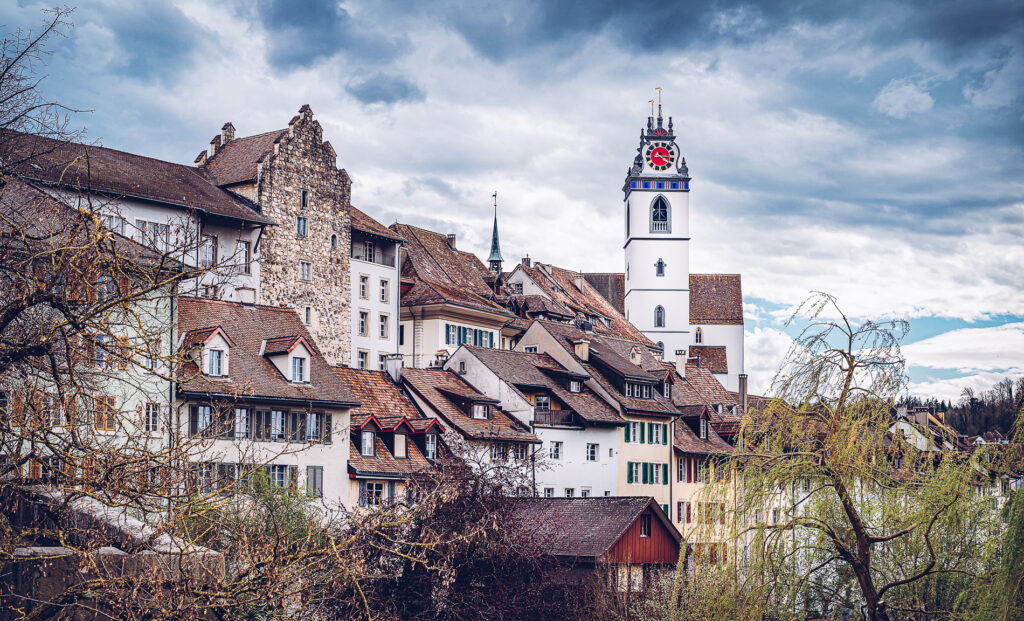 In Switzerland's Aargau region, not far from the German border between the Aare and Rhine rivers, forests of beech trees turn a wondrous yellow every fall in Switzerland. As you walk up the hills of the Jurapark, you'll also glimpse views of the Swiss Alps, and even the Black Forest in Germany. You'll finally end up in Aarau, a town known for the beautiful painted gables on its houses, which date from the 16th century. Time your visit for mid-October for the best chance at seeing the fabulous Switzerland fall foliage.