After more than two years of travel restrictions and lockdowns, we could all use a nice holiday – if you're like us, you're already looking up where to travel in 2023. The world's tourism industry is ramping up for a long-deserved big year, and there are plenty of great places to choose for your next trip. So what will travel in 2023 bring?
Well, we here at The Window Seat can't predict the future any more than you can, but we can say one thing: if you travel to one or more of the destinations on this list, you're sure to have a good time. We've assembled a globetrotting list of 8 destinations around the world for you to sink your virtual teeth into, whether you're travelling in January or June.
We're running the gamut here: from massive global metropolises with tens of millions of citizens to smaller, often overlooked gems tucked into picturesque mountain passes. We're bringing you the top tourism destinations of some of the world's most visited countries as well as some of the up-and-coming charmers we think will be the big names of tomorrow's tourism magazines.
With so many destinations to choose from, it can be hard to choose where to travel in 2023. That's why we've assembled a list of all the best European destinations of tomorrow. You can make sure your trips range from huge old cities like Berlin to tiny, barely known resort towns like Ohrid, North Macedonia. This list has all of our 2023 travel tips – read on for the best places to travel in 2023.
Why you should travel to Istanbul in 2023
Once called the city of the world's desire, if you're planning travel in 2023, Istanbul still has quite a lot to offer. It stands at the crossroads of Europe and Asia, straddling continents like that semi-mythical Colossus of Rhodes. After a century spent in relative obscurity, it seems like Istanbul is once again returning to its rightful place as one of the world's premier cities. Perfectly positioned to enjoy the benefits of both inland and maritime living, Istanbul offers balmy weather most of the year, but we especially enjoy the autumn – the red terracotta roof tiles that cover the old city pair perfectly with the autumnal foliage of its trees, creating an intoxicating visual effect. Add to that a steaming cup of salep (a local drink made of orchid tubers and a cool-weather favorite) and you have yourself a very cozy time indeed.
With a history dating back to ancient times, Istanbul's cultural offerings can't be beat. Explore the Byzantine water cisterns under the city, where the Romans stored the vast quantities of water that allowed Constantinople (as Istanbul was formerly known) to resist siege after siege and remain unconquered for a thousand years. Then wander over to Sultanahmet square, built inside the ruins of the Hippodrome, where tens of thousands watched chariot races and other sports. It's the site of several extremely historic attractions, including the Column of Thutmose III carved way back in Egypt in the 15th century BCE, as well as the famous and beautiful Blue Mosque. A short distance away, visitors can find Istanbul's other primary mosque, the venerable Hagia Sophia mosque, converted from a Byzantine cathedral.
Would you believe that Istanbul has great food as well? After you've had your fill of the city's traditional grilled kofte (meatballs), head over to the old Atatürk bridge across the Golden Horn, where hundreds of wizened fisherman pull fresh mackerel out of the waters and directly onto hot charcoal grills – and from there, if you so choose, into your waiting hands.
How to get there:
You can fly to Istanbul from any city in Europe. Direct flights from Berlin to Istanbul, will take you around 2h and 50 minutes. If you are flying from Paris to Istanbul, the journey will be around 3h and 25m. A direct flight from Athens to Istanbul is 1h and 25m long. You can catch direct flights from many other European cities: Barcelona – Istanbul, Rome – Istanbul, Madrid – Istanbul and any other major European city.
You can also take the bus from Thessaloniki to Istanbul, a bus ride from Thessaloniki to Istanbul is around 6h and 29m.
Naples: one of the best places to visit in 2023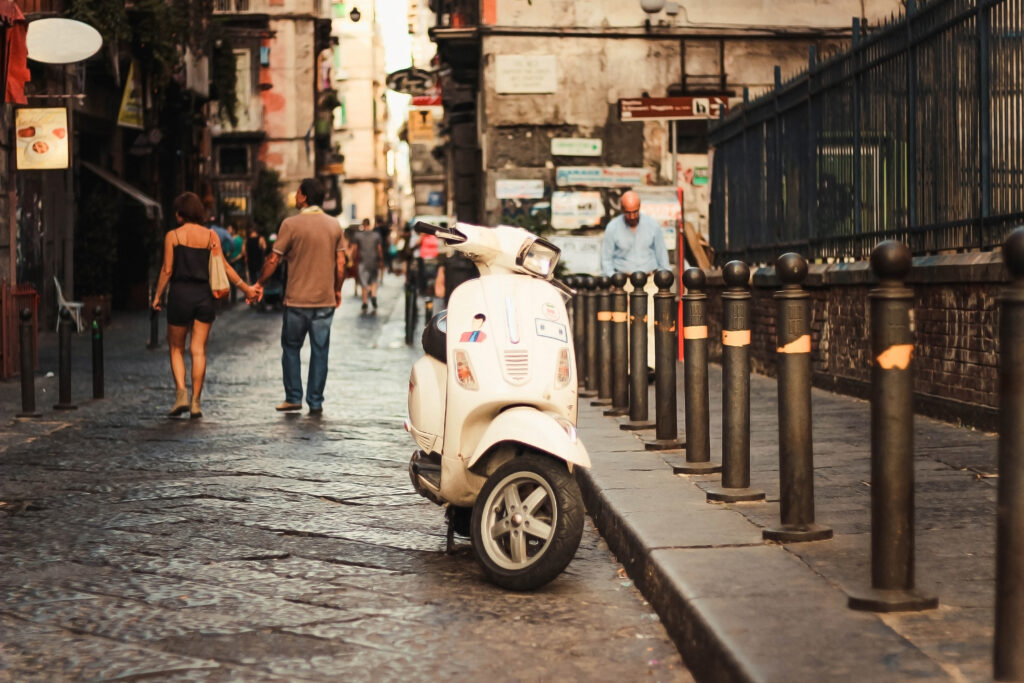 If you're looking for 2023 trips, look no further than a quick 2.5 hour drive from Rome (or just over an hour on Italy's excellent rail system), where a different Italy awaits. Naples is a positively ancient city, having been founded around 600 BCE by Greek colonists. Here in the shadow of that most famous of volcanoes, the venerable Vesuvius, you'll find the entire gamut of Italian stereotypes: Vespa-riding youths in leather jackets and track pants, tiny grandmas (that's nonna to you) dressed all in black, accordion-squeezing street musicians, and did we mention the world's first pizza?
What you'll also find is culture. The Naples archeological museum houses some of the most impressive remains found not only in Naples, but the wider region (including Pompeii, more on this below). While you're at it, if you're feeling frisky, you can also visit the Secret Museum, a collection-within-a-collection of erotic Roman art initially confiscated by the Catholic Church before being somewhat begrudgingly opened as a separate exhibition within the Archeological Museum. If you haven't had enough of the human form by then, visit the Cappella Sansevero, home to some of the most intricate and elaborate marble sculptures ever carved.
Further afield, the Campania region houses some of Italy's best attractions. A half hour from Naples, you'll find the unmissable ruins of Roman Pompeii, destroyed almost 2,000 years ago by volcanic eruption, an absolute must-see (and if you still want more, there's also Herculaneum, a lesser-known but still spectacular seaside settlement destroyed in the same explosion). A bit further afield and you're on the sun-drenched, lemon-scented Amalfi coast, a glittering necklace of coastal villages squeezed between the Campanian hills and the Tyrrhenian Sea.
How to get there:
It is really easy to get Naples by train, flight or bus from anywhere in Europe. The two main train operators in Italy are Trenitalia and Italo, that conveniently connect you with different Italian routes. If you are in Rome, a train from Rome to Naples, can take you there in an 1hr and 8min. A train from Florence to Naples takes around 3h and 45 min. You can also book a train from Paris to Naples, for a longer journey of around 12h.
Flying is also an option, if you are located or traveling from other European cities. You can book a flight from Madrid to Naples, Barcelona to Naples or any other destinations.
Alternatively you can travel to Naples by bus. You can book a bus from Bologna to Naples or Geneva to Naples. You can book the most suitable route and mode of travel for you, no matter where you are located the options are countless.
Why 2023 is the year to visit Granada, Spain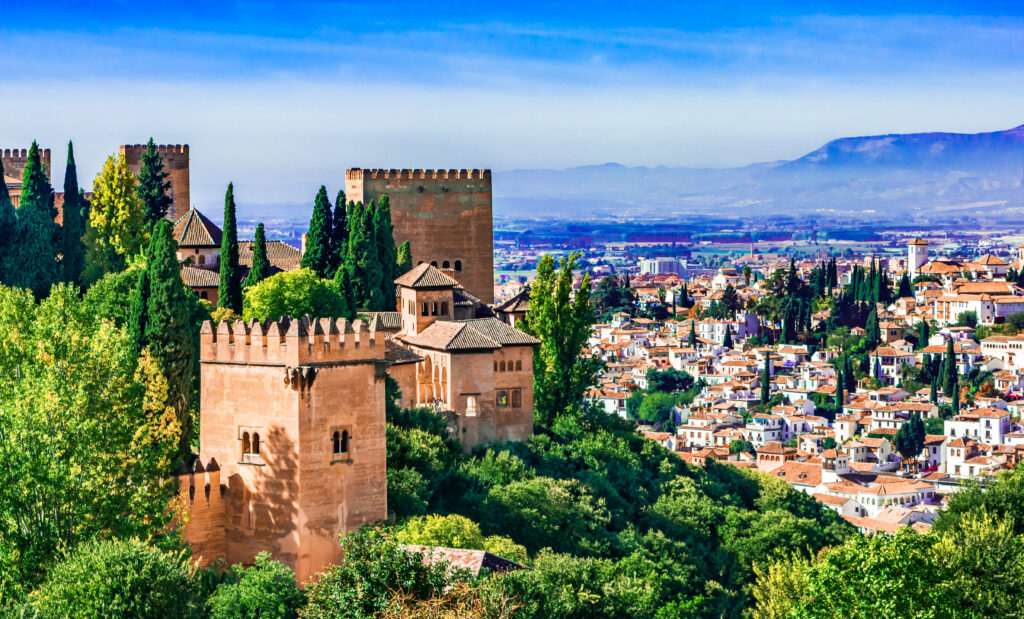 Here's a 2023 travel gem for you: a scenic mountain town nestled into Spain's sweltering southern region of Andalusia, where Islamic influences are still visible in every narrow cobblestone alleyway. Welcome to Granada, which was the last bastion of Islam in western Europe, where the Christian monarchs of Spain completed their reconquista five centuries ago. To be sure, 500 years is a long time, but the wandering terraced avenues of the Albaicin neighborhood would beg to differ.
Visit the Alhambra palace, last seat of the Nasrid dynasty, and admire the centuries-old embossed details adorning its walls. The best time to visit is the morning, before the heat becomes too intense. This sprawling palace complex boasts an exotic flower garden, royal housing, fountains, and much more. After a luxurious, late (Tip: Spanish mealtimes are generally a couple hours later than they are elsewhere) tapas lunch at one of the city's many streetside restaurants, catch a quick siesta. At sunset, head to the Mirador de San Nicolás, where you can admire the day's last rays of sunlight glinting off of the Alhambra's golden walls. After dinner, cap the night off with an evening of flamenco in the Sacromonte neighborhood, a traditionally Roma area of town, where many of the dwellings are carved into the living rock of the hillside – cave houses!
How to get there:
You can easily reach Granada by train with Renfe, Ave, Ouigo or Avlo providers from anywhere in Spain. You can book a train from Barcelona to Granada, Madrid to Granada, Seville to Granada or from any other destination.
You can also fly from Berlin to Granada, Milan to Granada, Rome to Granada and from many other cities.
Why you should visit Strasbourg, France in 2023
Can't make up your mind between visiting France or Germany in 2023? Why choose one when you can have… both? Or the next best thing to both: Strasbourg, the major city of France's easternmost region, used to be the primary city of Germany's westernmost region. All this means that here, nestled in the broad valley of the upper Rhine, you'll find a true gem of western Europe, a bold mixture of French and German that somehow manages to become something all its own.
Take one look at the timbered houses of Strasbourg's immaculately preserved old town, which is designated as a UNESCO World Heritage Site, and you'll think: Germany. But look up at the edifice of the Strasbourg Cathedral, completed (after almost 400 years of on-and-off construction) in 1439, and see the name Notre Dame, and think: France. And so it will continue, from the winding alleys of the Petite France neighborhood to the city's world-famous Kronenbourg Brewery; from baguette to bratwurst to Strasbourg's quintessential side dish, choucroute, which is better known to the rest of the world as sauerkraut. Here in Strasbourg, you can't avoid the feeling of being if not between France and Germany, then of somehow simultaneously existing in both at once.
But that's the beauty of this place. Studded with plenty of green spaces, with both the highly manicured French style on display at the Parc de l'Orangerie and the more naturalistic German style exemplified by the Parc de la Citadelle, and the lazy Rhine river with its many diversions and tributaries running through it all, this is a city built for relaxed contemplation. Contemplation of culture, of nationality, of beauty in general – travel to Strasbourg in 2023 and you'll find two cultures, two nations, and one lovely city.
How to get there:
You can get to Strasbourg quite easily by train with the SNCF operator. Book a train from Berlin to Strasbourg, Madrid to Strasbourg, Rome to Strasbourg, Barcelona to Strasbourg or from many other destinations.
Strasbourg is also conveniently reached by bus. You can book a bus from Paris to Strasbourg, Nice to Strasbourg, Bordeaux to Strasbourg, Milan to Strasbourg or from many other European cities.
Why you should visit Berlin in 2023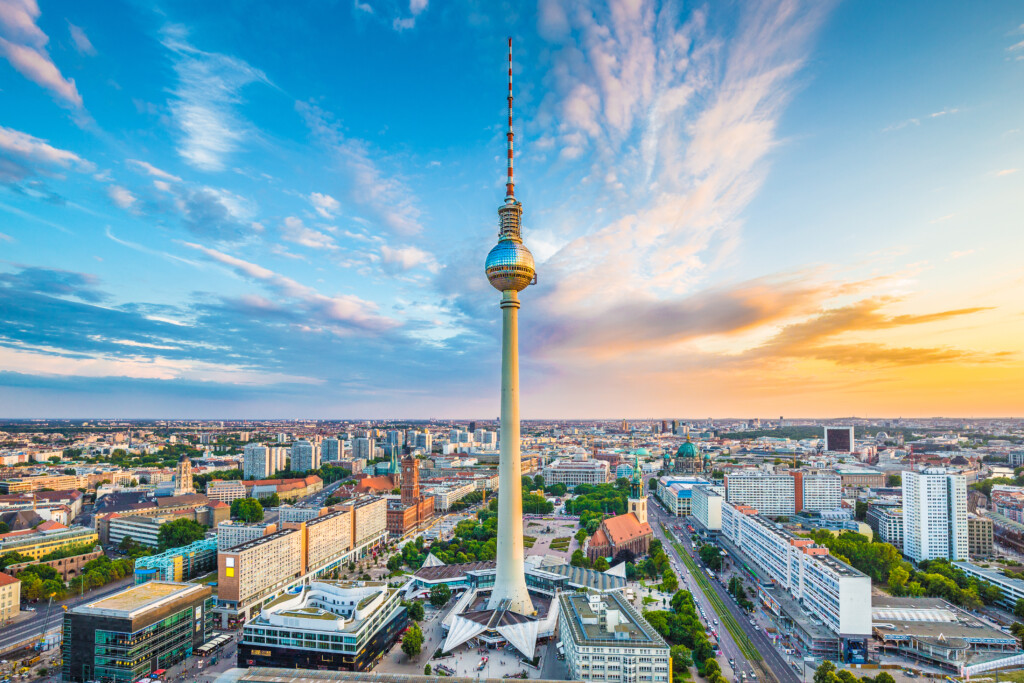 Speaking of 2023 trips: Berlin. After spending the second half of the 20th century divided by the Cold War, the 21st century is once again seeing Berlin rise to regain its place as a premier world city. Today, it's known as a destination for art and music, museums, and historical landmarks. Fresh visitors to Germany's capital may be surprised: this isn't Oktoberfest in Munich: the buildings are almost all modern, the Alps are nowhere to be seen, and there's not a pretzel or shred of lederhosen in sight. In truth, Germany is a cosmopolitan, diverse country, and nowhere is this more obvious than in Berlin.
After its 30-year presence in the city, the fall of the Berlin Wall left its two halves to become one again. Today, you'll usually barely notice as you cross between the erstwhile border, but you just need to look down: through much of the city, the former border is marked by a thin line of brick pavement stones crossing across streets and sidewalks. If that intrigues you, visit the Berlin Wall Memorial, where you can see a reconstructed section, complete with observation tower and the infamous death strip. A little-known fact: the Berlin Wall was not the first wall to be located in Berlin. That honor belongs to the long-gone medieval city walls. Their only remnants are a few scattered gates around the city – most notably the Brandenburg Gate, which along with the Bundestag parliament building (formerly known as the Reichstag), form two of the city's most iconic landmarks. You also can't miss the staggering Berlin TV Tower, a massive, 1,200-foot (370 meters) tall shining disco ball on a tower visible from almost anywhere in the city.
Berlin is also home to one of the world's premier art scenes, with almost 500 galleries located in different parts of the city, as well as dozens of museums and collections. Lately, it's garnered somewhat-belated worldwide recognition as one of the world's finest nightlife scenes, with a wide range of clubs and bars where properly motivated visitors can party the night away (and following day, if they so please).
How to get there:
If you are in Europe, it couldn't be easier to get to Berlin. You can travel to Berlin by plane, train or bus depending on your location. The main train provider in Germany is DB. You can book a train from Madrid to Berlin, Rome to Berlin, Barcelona to Berlin, Milan to Berlin or from many other European destinations. You can also fly from Athens to Berlin, Bucharest to Berlin, Warsaw to Berlin or from any other European city.
Where to travel in 2023: the West Coast of Ireland
For a real taste of remote Europe, look no further than Ireland's stunning west coast, home to stunning maritime landscapes, remote historic islands, and charming villages with friendly locals. This remote region boasts rugged cliffs towering above sandy beaches interspersed by rolling hills sporting more sheep than you can shake a shepherd's crook at.
Ireland's west coast is home to a number of natural wonders – the Cliffs of Moher, with their spectacular 700-foot (215 meters) vantage point over the crashing waves of the Atlantic, have surely earned their notoriety. If you really want to appreciate the region's otherworldly beauty, head to the western archipelago of the Blasket Islands, formerly home to a dwindling population of Irish speakers, where today visitors can camp on the rugged, now-uninhabited hills. There you can spy the incredible and appropriately named Cathedral Rocks towering over the surf with their distinctive arch. Looking for something more human? Western Ireland is also home to a number of ancient and modern treasures. Ireland's long centuries of monastic tradition has left the emerald hillsides dotted with stunning ruins of monasteries, while its equally long history of small kingdoms and chieftains left plenty of ruined castles to choose from.
But the west of Ireland also conceals a special not-so-secret attraction – the Irish! Today, the west is the only place in Ireland where you're likely to encounter groups of people speaking the Irish language, as most Irish people speak English at home these days. These Irish-speaking regions are collectively known as the Gaeltacht, and together make up one of Ireland's most cherished cultural treasures. In the towns of the Gaeltacht, you'll find charming towns and small cities, each with their own unique take on the traditional Irish culture.
How to get there:
You can fly to Dublin and from there head to West Coast of Ireland by bus. You can catch a bus form Dublin to Galway with Infobus, it will take you around 2h and 59min to get to your destination. You can also book a flight from Berlin to Dublin, Rome to Dublin, Milan to Dublin, Athens to Dublin, Barcelona to Dublin or from any other European city.
Why Warsaw, Poland, is one of the best places to visit in 2023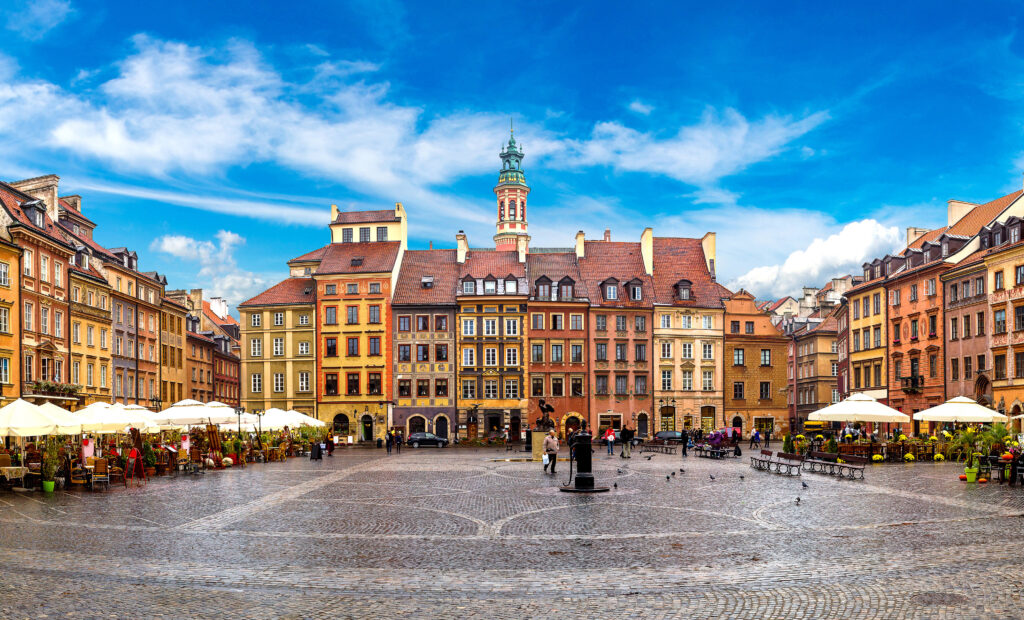 Warsaw might seem like an odd city to find on this list, but this rising star of eastern Europe has something for everyone. Dating back to the 13th century, Warsaw's historic center (along with much of the rest of the city) was destroyed in the Second World War, only to be lovingly reconstructed brick by painstaking brick, sometimes even using historic paintings as references where architectural plans were missing. Today in 2023, this reconstructed old town is a UNESCO World Heritage site and home to several beautiful and historic buildings and landmarks, like the Wilanów Palace, dubbed by admirers to be the Polish version of Versailles.
You'll also find a thriving cultural scene here. The river Vistula snakes through the city center, and in the summer its willow-draped banks are home to numerous beach bars slinging the ubiquitous Tyskie beer as well as mojitos and other drinks. The food scene is excellent as well. In addition to local favorites like the ubiquitous pierogi (a dumpling stuffed with cabbage, cheese, potatoes, pork, or other fillings) and kielbasa sausage, it's possible to find top-shelf Vietnamese food and sushi.
Warsaw is conveniently located at the very center of Poland: 2.5 hours on the train will get you to Krakow, perhaps Poland's most historic city. Krakow has a long Jewish history (even today, one of the central neighborhoods is called the Jewish Quarter), and perhaps the best place in Poland to learn about the evils committed during the Holocaust. It's only a short drive to the Auschwitz-Birkenau Memorial and Museum, a somber reminder of the horrors that humans are capable of. A trip there, while perhaps not the most fun way to spend half a day, is a deeply moving and important experience that you won't soon forget.
How to get there:
Due to it's convenient location, it's really easy to reach Warsaw by train. You can book a train from Berlin to Warsaw, Milan to Warsaw, Rome to Warsaw, Prague to Warsaw, Vienna to Warsaw or from many other cities.
Otherwise, you can book a flight from Barcelona to Warsaw, Athens to Warsaw, Madrid to Warsaw or from any other destination.
Travel in 2023: Lake Ohrid, North Macedonia
Nestled deep in the heart of the Balkans, an ancient lake lies slumbering. Straddling the border of North Macedonia and Albania, the city of Ohrid on the shores of its eponymous lake is an aquamarine gem of landlocked North Macedonia's nascent tourism industry. Perched on a bluff overlooking the lake's northern edge, the city of light (as it was known to the ancient Greeks) is surrounded by stunning mountain scenery, a rich and mystical history, and some of the best freshwater beaches in the world.
Ohrid's premier attraction and absolute must-see is the spectacular Church of St. John at Kaneo, which occupies pride of place atop a prominent cliff overlooking the lake at the eastern edge of the city. In fact, if you're the type who reads about travel destinations (and you're reading this, aren't you?) there's a good chance you've seen pictures of this church. After climbing the steep ascent to the church, visitors have their choice of paths to continue to the hill's summit, which boasts more churches as well as a medieval fortress. The short hike takes you through a forest of pines and wild plum trees, all overlooking the pristine beauty of the lake. Further down the shore you can find the Bay of Bones, which is an ominously named reconstruction of a Bronze Age village on stilts out over the waves. Wandering a bit further down the lake takes you to the Monastery of St. Naum on the Albanian border, built over a spring rumored to grant fertility to any woman who drinks from its waters.
The lake's attractions don't stop at the historical: it's a huge destination for outdoor enthusiasts and boasts a range of activities including swimming, boating, fishing, hiking, and even paragliding. The shores of the lake are bristling with resorts, including an ultra-exclusive governmental resort dating back to North Macedonia's Yugoslav era. One of the best activities is simply to head down to one of the travel agents in town and rent a moped. Blessed with your own transportation, you're free to roll along the lakeshore at your own pace, stopping for a swim whatever tickles your fancy.
How to get there:
You can book the most suitable mode of transportation from any European location to Skopje, North Macedonia and from there head to Lake Ohrid by bus. You can book a flight from Berlin to Skopje, Barcelona to Skopje, Rome to Skopje, Vienna to Skopje or from any other European city.
You can also easily reach North Macedonia by bus from Thessaloniki to Skopje, Athens to Skopje.